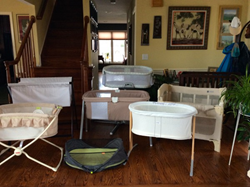 Bassinets provide a compact and safe place for your baby to sleep, all while allowing you to keep them close to your side.
Cheyenne, Wyoming (PRWEB) January 30, 2015
Pediatrician-led BabyGearLab.com has just released their final selection of award winning products for 2014 in their best bassinet review. The team put eight of the most highly rated bassinets through a series of critical evaluations, including actual day-to-day use, in order to determine which would stand out among the competitors. Each bassinet was rated based on the following metrics: health and safety, ease of use, portability, quality and ease of set up. The full review can be viewed over on BabyGearLab.com.
Following are the award winners:
Editors' Choice went to the BabyBjorn Cradle. "This was a simple yet functional bassinet that also held structural and material safety in high regard," says Dr. Juliet Spurrier, founder of BabyGearLab. "The use of potentially dangerous chemicals in many modern baby products is of serious concern to us, so we were pleased to see the stringent standards BabyBjorn upheld in the construction of this cradle."
The Best Value Award was given to the Arm's Reach Mini Arc Co-Sleeper. "The Arm's Reach was a sturdy, easy-to-use bassinet that could be used free standing or pulled up flush to a parent's bed and used as a co-sleeper," notes Dr. Spurrier. "We just love the versatility this cradle offers and all at a manageable price-point."
Finally, the HALO Bassinest Swivel Sleeper was named Top Pick for use by mothers recovering from a C-section. "With a swiveling, height adjustable cradle, and a side rail that folds down for easy access to baby, this bassinet offers a customizable experience for mothers dealing with limited movement," said Dr. Spurrier.
The testing process was based on comparative evaluations as the bassinets were used side-by-side. All products were graded from the moment they came out of their box for set-up, during daily use as they were repeatedly moved, folded, carried, packed and unpacked for transport, as well as cleaned and stored as needed. Each was scored on 5 distinct metrics, allowing for a final overall product performance score.
BabyGearLab has also published the article "How to Choose the Perfect Bassinet" to enhance the new parent's buying decision. The article outlines the benefits of having a bassinet as part of a family's baby gear arsenal, and also highlights key considerations regarding performance and safety.
About BabyGearLab.com
As a pediatrician practicing in Northern California while pregnant with her first child, BabyGearLab founder, Dr. Juliet Spurrier began her search for an online resource to help her sort out the growing list of buying decisions she'd be making on behalf of her baby. Unable to find the test-based research she was looking for, BabyGearLab.com was born in 2012 and now provides detailed and credible information on baby products to parents worldwide.