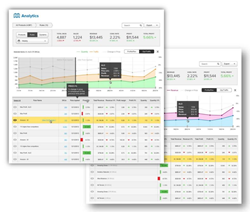 Big data is more than just a buzzword, it's a source of competitive advantage for the savviest retailers in the hyper-competitive online retail sphere.
San Francisco, CA (PRWEB) January 26, 2015
Wiser, the premiere retail price intelligence and repricing engine, has launched a new version of its analytics dashboard for online retailers. As an upgrade to its flagship product, WisePricer, retailers now have access to even more comprehensive reporting. It allows retailers to track trends within their business and monitor their key performance indicators at a high level to determine which pricing campaigns are most effective.
Wiser collects and analyzes over 45 million price points daily. Clients who have enabled automated repricing can see the profit and revenue results of their repricing rules and garner in-depth insights to continuously optimize their pricing strategy at both the product and category level.
Arie Shpanya, CEO of Wiser, explains, "With Wiser's updated analytics functionality, retailers can quickly report on price changes, revenue and profitability. Powerful data visualization helps retailers see how price changes impact sales, showing them the price elasticity of their products."
Big data is more than just a buzzword, it's a source of competitive advantage for the savviest retailers in the hyper-competitive online retail sphere. From insights on customer preferences to the optimal pricing for a new product, it's essential to harness the power of data in retail.
Shpanya adds, "But everyone has data. It's the analysis of that data that delivers the actionable insights needed to optimize pricing strategy and ensure that it supports a retailer's overall business strategy."
In addition to new reporting features, Analytics 2.0 also comes with an updated interface that improves user-friendliness. Retailers can easily A/B test pricing rules and compare the outcomes to determine the optimal pricing strategy for all of their products.
Retailers can get down to the product level and sort data by customized filters to generate specialized reports and analysis. Wiser's upgrade also boasts improved tracking technology to allow retailers to more easily implement conversion rate tracking.
About Wiser:
Wiser provides a complete suite of solutions to give retailers, brands, and manufacturers the edge to stay both competitive and most importantly, profitable.
Wiser's flagship product is WisePricer, full-featured dynamic pricing and merchandising engine that monitors, analyzes and reprices retail products in real-time. WisePricer enables retailers to boost profit margins and revenue, price with confidence, and improve merchandising through powering the development of a sound pricing strategy.
Wiser also offers a MAP monitoring solution, WiseMapper, for brands and manufacturers to monitor and protect their pricing across the thousands of retailers selling their products.
For more information on Wiser and WisePricer, please visit wiser.com/wisepricer.