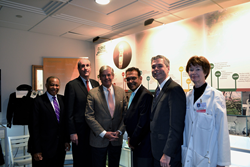 "We take great pride in our history in medical rehabilitation and look forward to helping move rehabilitation forward for many years to come," said Burke CEO, Mary Beth Walsh, MD.
White Plains, New York (PRWEB) January 23, 2015
Burke Rehabilitation Center, the only acute rehabilitation hospital in White Plains, NY, officially kicked off a year-long celebration to commemorate its 100 years of pioneering rehabilitation with a ribbon cutting of its Burke Centennial Lobby Exhibit on January 22. The lobby exhibit's "Then and Now" theme features numerous vignettes highlighting Burke's past, present, and future. The exhibit, which is in Burke's Wood Pavilion is open to the public through the end of the year.
Visitors can view cherished artifacts and relics dating back to Burke's inception 100 years ago, such as a hand-printed original blueprint of Burke's Billings Building by renowned architectural firm McKim, Mead & White and a turn-of-the-century pocket watch owned by John Masterson Burke, the hospital's founder. The exhibit also highlights new innovations in rehabilitation technology, including a prosthetic arm produced by a 3D printer, interactive demos with a photon microscope, and a Vital Health Connect digital patch that monitors and wirelessly transmits patients' vital signs to health care providers.
White Plains Mayor Thomas Roach, Deputy County Executive Kevin Plunkett, Legislator Ben Boykin and a number of key figures and local dignitaries attended the ribbon-cutting ceremony. Dignitaries were joined by Burke leaders and supporters, including Burke CEO and Executive Director Mary Beth Walsh, M.D. and Burke Medical Research Institute Executive Director Raj Ratan, M.D., Ph.D., who provided opening remarks and participated in the ribbon-cutting ceremony.
"We welcome the community to join us in celebrating our centennial year," said Walsh. "We take great pride in our history in medical rehabilitation and look forward to helping move rehabilitation forward for many years to come."
More information on the new lobby exhibit and Burke's upcoming events throughout 2015 is available at http://www.burke.org/100years.
About Burke Rehabilitation Hospital
Burke Rehabilitation Hospital is a private, not-for-profit, acute rehabilitation hospital. Founded in 1915, it is the only hospital in Westchester County dedicated solely to rehabilitation medicine. Burke offers both inpatient and outpatient programs for those who have experienced a disabling illness, traumatic injury or joint replacement surgery. The hospital is part of Burke Rehabilitation Center, which also includes Burke Medical Research Institute and Burke's Outpatient Division. Burke's world-renowned doctors and therapists provide state-of-the-art treatment while its research scientists explore the frontiers of neurological and rehabilitation medicine. All share the Burke mission to ensure that every patient makes the fullest possible recovery from illness or injury regardless of their ability to pay. For additional information on Burke Rehabilitation Center, please visit burke.org.
###