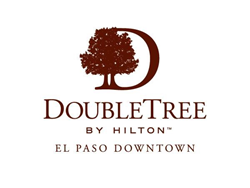 We look forward to bringing back the high standards of amazing dining to the El Paso community and our hotel guests
El Paso, Texas (PRWEB) February 10, 2015
El Paso Doubletree by Hilton, part of Hilton's fast-growing global portfolio of upscale, full-service hotels, announced today that Ron Fineron has been appointed head chef of the hotel's Fire Restaurant and Bar.
"With great excitement we would like to welcome back our talented Chef Ron Fineron Back to Fire restaurant at the El Paso Doubletree by Hilton Hotel."
Ron originally opened the Fire Restaurant in March 2009, and made a tremendous mark on the hotel by creating a dining experience like no other hotel. "We look forward to bringing back the high standards of amazing dining to the El Paso community and our hotel guests," said William Giraldez, General Manager of the hotel. Prior to joining El Paso Doubletree by Hilton Ron has worked at the Coronado Country Club, along with numerous restaurants in El Paso, Texas. Currently Ron is at the Monte Vista at Coronado currently but will also serve as our Restaurant Consultant for Fire.
El Paso Doubletree by Hilton would like to re-introduce Ron and the Fire Restaurant on Valentine's Day with a spectacular menu for February 14, 2015. The hotel is expected to be sold out for this Valentine's Day event, so please make your reservations now. Along with the great menu and seductive ambience, you will now be able to dine seven days a week in the Fire Restaurant and enjoy the newly released dinner menu.
Among the El Paso Doubletree by Hilton brand exclusives that guests will enjoy daily – the hotel is excited to introduce some of Ron's unique and delicious entrees' such as Sherry Skillet Meatballs, Sweet Spicy Shrimp Rellenos and Crab Croquette, just a teaser of great food to come. We hope to see you in Fire restaurant on Valentine's Day and beyond.
El Paso Doubletree by Hilton is located at 600 N. El Paso Street, El Paso, Texas 79901. For reservations, call 915-532-8733.
ABOUT EL PASO DOUBLETREE BY HILTON
DoubleTree by Hilton El Paso Downtown home to 200 guestrooms that come complete with Sweet Dreams mattresses, complimentary Internet access, 42-inch flat-screen HD TVs, work desks, Aroma Active Essentials bath amenities and more. This boutique downtown haven combines urban chic with friendly service and incredible comfort by offering a variety of services and amenities to ensure a most productive and pleasurable stay.
###