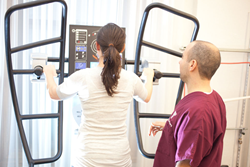 New York, NY (PRWEB) January 26, 2015
Dr. Steven Shoshany, regarded as one of NYC's top chiropractors, is excited to introduce a special treatment offer for the month of February. To celebrate the start of the new year and help patients keep their health-related resolutions, Dr. Shoshany is offering complimentary Spineforce® sessions to patients with their chiropractic adjustments. Spineforce® is a high-tech rehabilitation device that painlessly treats several spinal conditions through kinetics.
Always at the forefront of the latest in back pain and sciatica treatment technology, Dr. Shoshany was one of the first chiropractors in NYC to offer Spineforce® therapy, with great success. Many patients across a wide range of age and physical fitness levels can benefit from Spineforce® sessions, which target deep spinal and core muscles by engaging the patient in a series of simple, effective movements. While undergoing treatment, patients can expect to achieve improved posture, enhanced core strength, better balance, range of motion, and coordination, reduced pain, increased comfort and flexibility.
Spineforce® is also highly recommended by many physical therapists for athletes and fitness enthusiasts who are recovering from sports injuries, as it allows the body to perform rehabilitation exercises and strength training exercises simultaneously. Athletic injuries progressively heal while patients work on their fitness and performance. As for everyday patients, it can allow for enhanced healing and strengthening in order to avoid future injury, and stabilize the musculature that supports and mobilizes the spine.
During the entire month of February, complementary Spineforce® sessions will be included with chiropractic treatments for patients who are evaluated and found to be candidates for Spineforce® therapy. For additional information on the benefits and applications of the Spineforce® mechanism and treatments, you may visit http://www.lpgsystems.com/products/spineforce. For details on Dr. Shoshany's Spineforce® promotion, as well as to book appointments and explore his full range of physical rehabilitation services, please visit Dr. Shoshany's website
ABOUT DR. STEVEN SHOSHANY
Regarded as one of Manhattan's top chiropractors, Dr. Steven Shoshany is an internationally-recognized pioneering innovator in the field of spinal decompression, being one of the first doctors to offer the revolutionary non-surgical treatment in New York City. A graduate of Life University's class of 1996, Dr. Shoshany is certified in Active Release Techniques (ART) and has been successfully practicing in the downtown Manhattan area since 1999, where he currently resides with his wife and children. For more information on Dr. Shoshany, please visit http://www.drshoshany.com.