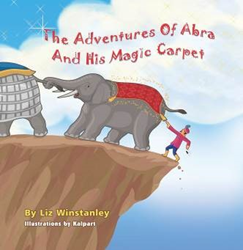 "Rudyard Kipling's 'Just So Stories' were frequently read to me by my grandfather. 'How the Elephant Got His Trunk' being my favorite!" says the author.
(PRWEB) January 26, 2015
"The Adventures of Abra and His Magic Carpet" is a children's story providing a wonderful introduction to the roles elephants have played and continue to play in the world.
Seen through the eyes of an elephant using a magic carpet, readers are taken along on adventures to meet maharajahs, see elephants performing tricks at a circus and struggling on snowy paths in the Alps with Hannibal, as well as learning about poachers in Africa and the plight of elephants there.
The magic carpet's owner is an evil magician who follows Abra to get back his prized possession. Find out what happens next!
Says reader Vista Bill Raley, "This colorful children's book includes everything that is needed to entertain a youngster. We find Abra, an old elephant recapturing his youth and he travels all over the world ... parades, circus, and more. A lesson in humanity, a lesson in history, and a lesson in geography. This wonderful book will delight any child."
Otto Doelling, another reader, says, "What child will be able to resist this tale of a kindly but overworked elephant who is liberated when he is magically lifted up with a magic carpet and whisked away into a fabulous world of adventure Liz Winstanley follows in the footsteps of her countryman, Rudyard Kipling, whose own whimsical elephant tales have enchanted children for decades."
They say elephants don't ever forget! And readers won't forget this amazing elephant adventure, either! Abra is a wrinkled old elephant who recaptures his youth with the aid of a wise and powerful magic carpet named Khalid. Abra is able to journey all over the world and even back in time with Khalid. Abra meets his relatives and ancestors in various roles. On a visit to Africa, Abra is confronted with the cruelty of ruthless poachers and the sad plight of his fellow elephants, which are hunted for their tusks. He learns of the organizations that rescue elephants and protect them in the wild, in this engaging children's book that sheds light on the plight of elephants everywhere.
"We are thrilled to announce the release of this wonderful children's adventure that also takes a look at the world of elephants," said Robert Fletcher, CEO of Strategic Book Publishing and Rights Agency.
Watch the video book trailer at: http://youtu.be/4ofOr0jJWAo
About the Author: British born author Liz Winstanley currently resides in Seattle. Elephants have occupied a special place in her heart ever since she rode one on a visit to the London Zoo when she was six. Now retired, when she is not writing, she enjoys scouring libraries and the Internet for interesting facts about elephants. "Rudyard Kipling's Just So Stories were frequently read to me by my grandfather. How the Elephant Got His Trunk being my favorite!"
THE ADVENTURES OF ABRA AND HIS MAGIC CARPET (Kindle ISBN: 978-1-62857-255-1, ePub ISBN: 978-1-62857-254-4) is available for $9.99 at
Amazon Kindle: http://www.amazon.com/Adventures-Abra-Magic-Carpet-ebook/dp/B00EAXN3TI/
Barnes & Noble Nook: http://www.barnesandnoble.com/w/the-adventures-of-abra-and-his-magic-carpet-liz-winstanley/1114026222
and in multi-formats for other e-Readers through numerous vendors online.
The soft cover version (ISBN: 978-1-62212-406-0, $14.97) can also be ordered through the publisher's website: http://sbpra.com/LizWinstanley or at Amazon, Barnes and Noble and other online retailers.
WHOLESALERS: This book is distributed by Ingram Books and other wholesale distributors. Contact your representative with the ISBN for purchase. Wholesale purchase for retailers, universities, libraries, and other organizations is also available through the publisher; please email bookorder@sbpra.net.