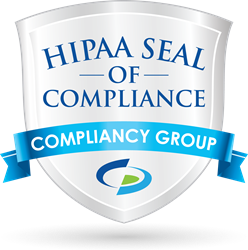 We realize that tackling compliance is critical for practices to succeed. After extensive research we concluded the Compliancy Group's solution and support was the best choice for our members. We are confident all our members could benefit from The Guard
Greenlawn, NY (PRWEB) January 29, 2015
Compliancy Group LLC and AOAExcelTM are proud to announce they have chosen Compliancy Group and its industry recognized compliance tracking software solution "The Guard" as an endorsed business partnership to simplify for the optometric industry. Compliancy Group will be offering its simple and cost-effective HIPAA compliance tracking solution, The Guard, to help members of the AOAExcelTM, an association of over 39,000 ODs (doctors of optometry), optometry students, paraoptometric assistants, and technicians achieve, illustrate and maintain compliance. In addition, Compliancy Group will also offer AOAExcelTM members access to their monthly educational webinar series.
Federal healthcare regulations have been through tremendous changes. As a consequence of the HIPAA Omnibus Rule – HITECH and HIPAA parameters have been changed. Regulations have been updated, increasing the number of audits and fines resulting in much greater scrutiny of Optometrist practices.
Compliancy Group's The Guard was specifically designed to tackle all compliance challenges (HIPAA, HITECH, Omnibus, OSHA & PCI), and includes: security risk assessments, policies and procedures, employee training, regulation updates, and compliance coaching.
"We (AOAExcel) realized that tackling compliance is critical for practices to succeed. After extensive research we concluded the Compliancy Group's software and support was the best choice for our members. We are confident The Guard will benefit all our members and help their practices succeed." - Dr. Joe Ellis (O.D., Past President of the AOA and Chairman of the Board of AOAExcel)
"Compliance can be confusing and time consuming for already overburdened practice managers. Like the United States Cavalry we are here to help. Compliancy Group simplifies the entire effort of compliance and our one on one HIPAA coaches allow us to offer a HIPAA audit guarantee. We are excited to be working with AOAexcel in the effort of educating and addressing the needs of AOAExcel members. Marc Haskelson (CEO of Compliancy Group LLC)
To learn more or to schedule a live demo of The Guard and get a jump start on the journey towards HIPAA compliance visit http://www.compliancy-group.com or call 855-85-HIPAA.
~
About Compliancy Group, LLC allows anyone to simplify the challenge of compliance, whether they are an experienced compliance expert or a front desk manager. The Guard, a simple, cost-effective, web-based solution, can help any organization regulate every aspect of HIPAA compliance for the entire office. Use our Achieve, Illustrate, and Maintain methodology and Compliance Coach support to address the entire set of HIPAA, HITECH, Omnibus, and PCI regulations. Visit http://www.compliancy-group.com or contact us at 855.854.4722 (855 85 HIPAA) to learn how simple compliance can be.
About AOAExcelTM: AOAExcelTM is a wholly owned subsidiary of the American Optometric Association and is focused on helping the optometrist grow and succeed by providing on-demand access to education, practice insights and best-in-class digital resources that support healthcare reform, patient care and maximize practice success. The purpose of AOAExcelTM is to promote standards of excellence, and to encourage and support innovation and success.