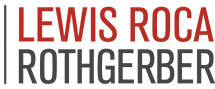 "Lewis Roca Rothgerber has a longstanding commitment to pro bono dating back almost 50 years ago to our representation of Ernesto Miranda in Miranda v. Arizona." - Dan Waite
Las Vegas, Nevada (PRWEB) January 23, 2015
Lewis Roca Rothgerber LLP proudly announces that the Legal Aid Center of Southern Nevada (LACSN) has recognized the firm with the 2014 Lied Award for Most Pro Bono Hours for a Law Firm.
"It is a great honor to receive this recognition from the Legal Aid Center of Southern Nevada," said Lewis Roca Rothgerber partner and pro bono committee chair, Dan R. Waite. "Lewis Roca Rothgerber has a longstanding commitment to pro bono dating back almost 50 years ago to our representation of Ernesto Miranda in Miranda v. Arizona, the nationally known case that secured protection under the Fifth Amendment of the US Constitution, a tradition we are proud to continue today."
Lied Awards are given in recognition to the Lied Foundation, which gave LACSN a Challenge Grant in 2000 to pay off its building mortgage. The grant was based on how many pro bono hours lawyers and firms donate on a yearly basis.
Lewis Roca Rothgerber attorneys Lindsay C. Demaree and Matthew W. Park, as well as Waite, were recognized by LACSN for individually donating more than 100 pro bono hours in 2014.
Lewis Roca Rothgerber was also named among the top 100 firms for pro bono hours in American Lawyer's 2014 National Pro Bono Rankings.
About Legal Aid Center of Southern Nevada
Legal Aid Center of Southern Nevada is a charitable organization dedicated to providing free community legal services to those in need.
About Lewis Roca Rothgerber LLP
Lewis Roca Rothgerber LLP is one of the largest law firms in the Western U.S. With 250 attorneys serving clients across nine offices including Las Vegas, Albuquerque, Casper, Colorado Springs, Denver, Phoenix, Reno, Silicon Valley and Tucson, the firm maintains thriving practices in litigation, real estate, business transactions, intellectual property, gaming, banking, bankruptcy and energy/natural resources. For additional information, please visit http://www.LRRLaw.com.