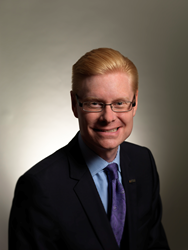 With the organization and its growing membership, we are committed to accelerating the development and implementation of technology that will impact and improve the safety, mobility and accessibility of our state and region's transportation system
PARSIPPANY, N.J. (PRWEB) January 27, 2015
Stephen Dilts, HNTB Corporation vice president and New Jersey sales officer, has been elected president of the Intelligent Transportation Society of New Jersey for 2015. Dilts had been first vice president of ITSNJ, which was awarded the Membership Growth Award in 2014 by ITS America for excelling at attracting and retaining members.
Dilts, who joined HNTB in September 2014, has an extensive transportation industry background that includes serving terms as commissioner and deputy commissioner of the New Jersey Department of Transportation, chairman of New Jersey Transit, chairman of the New Jersey Turnpike Authority, deputy executive director of the NJTA, and mayor and council president of Hampton, New Jersey.
"Our vision for ITSNJ is 'technology for world-class mobility', and our mission is to 'facilitate collaborative research, implementation and use of intelligent transportation systems to enhance economic development, quality of life and environmental sustainability through improved mobility and safety'," said Dilts. "With the organization and its growing membership, we are committed to accelerating the development and implementation of technology that will impact and improve the safety, mobility and accessibility of our state and region's transportation system across all modes."
Members of ITSNJ include the New Jersey Department of Transportation, Port Authority of New York & New Jersey, New Jersey Transit, North Jersey Transportation Planning Authority, New Jersey Turnpike Authority, BMW of North America, Xerox, Verizon, Princeton University and the Center for Advanced Infrastructure and Transportation at Rutgers University, among others.
Dilts holds a master's degree of governmental administration from the University of the Pennsylvania Fels Institute of Government, as well as a Bachelor of Arts, magna cum laude, from Boston University. He is an executive committee member of the American Council of Engineering Companies of New Jersey, and a member of the Regional Plan Association New Jersey Committee.
About HNTB
HNTB Corporation is an employee-owned infrastructure solutions firm serving public and private owners and contractors. With more than a century of service, HNTB understands the life cycle of infrastructure and addresses clients' most complex technical, financial and operational challenges. HNTB's offices in the New Jersey, New York and Connecticut region currently employ more than 400 full-time professional in nine tri-state locations. Professionals nationwide deliver a full range of infrastructure-related services, including award-winning planning, design, program management and construction management. For more information, visit http://www.hntb.com.