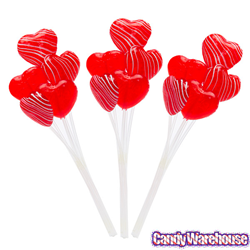 "We're committed to getting our customers the freshest candy possible in the widest assortment of flavors and colors"
Los Angeles, CA (PRWEB) January 23, 2015
The 20-foot high doors of CandyWarehouse's El Segundo, California facility have been rolling open every day for the last several weeks, pouring out boxes and boxes of fresh Valentine's Day candy. According to Dr. Evans Boney, the company's Marketing Director, that's no surprise.
"We always get a high volume of orders this time of year. Our customers want to go the extra mile to get the perfect sweets, instead of just the generic supermarket stuff, and that means planning ahead. In fact, many of our items are already out of stock. Nobody wants to get caught without something sweet for their special someone."
What has come as a surprise to Boney and his fellow "candy elves" is the preference for traditional chocolate over other types of Valentine's Day candy recently confirmed by a (not scientific) poll on the company's Google+ homepage. As of January 22nd, 2015, 61% of their customers still preferred chocolate treats, compared to only 39% who favor other types of Valentine's Day candy. Don't like the results? Voting is still open.
Fortunately for both groups, CandyWarehouse carries thousands of Valentine candies in both traditional Valentine chocolates and contemporary hard, gummy, and marshmallow varieties, all ready to be packed and shipped to lovebirds across the country. Those lovebirds may have to act quickly, though, since shipping deadlines are already fast approaching.
"We're committed to getting our customers the freshest candy possible in the widest assortment of flavors and colors, but the one thing we can't do for them is turn back time. It's up to them to give the shipping companies a chance to get their order from our warehouse to their door."
Boney goes on to say that most of his customers see that as a good thing. They like getting their shopping done early. It means they won't have to make any last-minute trips to the store, or beg for forgiveness when they show up at their significant other's door empty-handed. Instead, they get to enjoy the season, knowing they'll have exactly what they need for decorating or gifting well before the holiday itself. It gives them a chance to focus their energy on making it a special occasion instead of a stressful one.
For these and other perks, this online candy company's loyal customers seem hopelessly smitten.