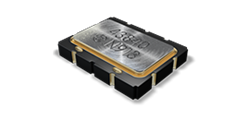 Lake Oswego, OR (PRWEB) January 24, 2015
Ascend Frequency Devices is proud to introduce our highest performance temperature-compensated crystal oscillator (TCXO) to date. The T5A series TCXO is capable of providing frequency stability of ±0.1ppm over -20°C to 70°C and ±0.2ppm over -40°C to 85°C in a 7x5mm SMD ceramic package with excellent phase noise performance.
Features:

3.3V or 5.0V supply voltage options
Frequency Range from 10MHz to 52MHz
CMOS or clipped-sine wave output
External control voltage for frequency modulation and improved performance
Stratum 3 performance with overall frequency stability requirement of ±4.6ppm for 20 years and 24-hr holdover performance of ±0.32ppm over industrial temperature range
Minimal effects on frequency stability generated by loading and power supply variation. At 3.3V with 10% voltage variation, the resulting frequency offset on the TCXO is < ±0.05ppm
Phase noise performance (CMOS output, 26MHz):
-120 dBc/Hz @100Hz offset
-143 dBc/Hz @1k Hz offset
The T5A series TCXO is an optimal solution as reference clocks in wide variety of communication systems, such as cellular base stations, test instruments, wireless back haul and core network equipment. The tight frequency stability performance of the T5A series is similar to that of an OCXO, but with much lower power consumption and smaller form factor.
Datasheet Links:
5.0V, CMOS (T5A5H); 3.3V, CMOS (T5A3H); 5.0V, Clipped-sine (T5A5C); 3.3V, Clipped-sine (T5A3C);
For more information about price and delivery of the T5A series, please visit our Website. Or, contact Customer Service at 800-975-7972,
About Ascend
Providing more than just standard frequency timing products, Ascend delivers custom timing solutions (crystals, oscillators, VCXO, TCXO and OCXO) for a number of markets including: data communications, telecommunications, consumer electronics, industrial, automotive, commercial vehicle, aerospace and defense, medical, and lighting. Established in 2004, the company operates from its headquarters in Lake Oswego, Oregon.
###