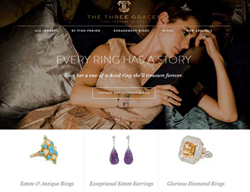 Having a vision is a magical gift life presents. Releasing into the world that vision sculpted into reality is what client's respond to.
Austin, Texas (PRWEB) January 26, 2015
A year in the making, The Three Graces launched a breathtaking and entirely new responsive designed website for their fine diamond and gemstone jewelry presence. Catering to clients the world over, it allows visitors an effortless and evocative experience no matter whether viewing on a tablet, iPhone, iPad, Android or traditional desktop. One visit and it is clear that shoppers are not in Kansas anymore.
The Three Graces' belief is that antique and estate jewelry is more exquisite, better crafted and so distinctive, that it is their mission to bring it into the full light of public consciousness. People are individuals and they desire accessories and adornment that reflects their creativity. Ethically too it is an obvious choice for the planet and generations to come.
Established in 2002, the focus since its inception was online only. Starting from the President's bedroom, with mostly just her passion of jewelry, a singular vision and little else, it has grown exponentially year after year. "Life could not have gotten much grimmer when I decided to take this on. In fact everything was so bleak, a search for a job that did not stem from the heart was unthinkable," Lisa Stockhammer-Mial, President, mentions. The company has not looked backed since.
A huge following, known as the "Totally Devoted", browse the website each day to discover the latest additions. "The 'New Arrivals' section is a favorite, and most won't start their day without a visit. Our clients know that the latest one-of-a-kind jewel may not be there tomorrow," recounts Jorien Evans, Director of Media. Mobility is crucial to their browsing experience, every day more visitors choose tablets and mobile devices over traditional desktops.
Putting the jewelry first and foremost was the aim of the new website. Each piece stands on its own; why not just let the jewelry speak for itself? The new website is the foundation for many other features to come and all efforts stem from catering to client's needs, behaviors, suggestions and wishes.
How appropriate that the name for the business, The Three Graces, derives straight from a piece of jewelry owned by the President. In Greek and Roman mythology stories come to us of three muses or goddesses known as The Three Graces. Each one personified a different trait, truth beauty and joy. "What better motto could we take up as our standard," states Ms. Stockhammer-Mial.