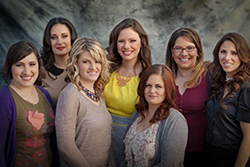 We're in the business of transforming women into the best versions of themselves.
Norwood, Massachusetts (PRWEB) January 23, 2015
Body builders, fitness models and competition hopefuls will receive star treatment January 23-25 when they meet in Norwood for Camp Savage. Far more than a simple bootcamp, Camp Savage will teach attendees everything they need to succeed in the world of bodybuilding and fitness competition, from nutrition to choreography and everything in between. The three-day camp will culminate in a professional photoshoot styled by the award-winning hair and makeup team of Blushing Brides.
"When you think of bodybuilding, glamour may not be the first word that comes to mind," says Grace Mahoney, owner of Blushing Brides. "But there's actually a lot of preparation that goes into helping contestants look and feel their best in the spotlight."
Grace's team of experienced hair and makeup artists will prepare campers for a professional photoshoot at the end of camp. Not only will attendees learn how to create a winning look, they'll also be creating images that they can use in portfolios as they compete in national competitions or pursue a career in fitness modeling. Hairand makeup artists Mia Allen, Kettia Fenestor and Liz Tucker will all be using their skills to create the transformations. Bridal Coordinator Theresa Gallagher will also be in attendance and will be spending some time in the chair herself as she's also enrolled as a camper at Camp Savage.
The world of bodybuilding is somewhat of a departure for the team at Blushing Brides, who are trading in a world of veils and tiaras for a weekend of biceps and bikinis. But Grace Mahoney insists the two worlds aren't so separate after all.
"At the end of the day, we're in the business of transforming women into the best versions of themselves. Whether they're walking down the aisle or cartwheeling across a stage, we'll make them look and feel amazing."
About Blushing Brides:
Blushing Brides is a collective of hair, makeup and nail artists who service clients in Boston, Portland, Bay
Harbor and beyond. Headed by owner Grace Mahoney, the Blushing Brides team creates signature looks for
weddings, photoshoots and other special events. Blushing Brides is a WeddingWire Couple's Choice Award
winner and has been featured on The Knot and The Boston Globe. To learn more about Blushing Brides visit
http://www.BlushingBridesBoston.com
About Camp Savage:
Camp Savage is the longest-running camp in the fitness industry. Founded by internationally recognized fitness and figure coach Cathy Savage, Camp Savage teaches participants everything they need to know about winning competitions in all major fitness federations. To learn more about Camp Savage, visit http://www.CathySavage.com