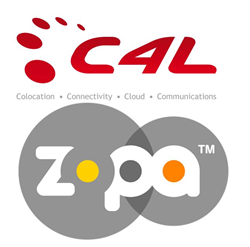 We are very pleased with the service we have received from C4L and the solution they have created for us. Our customers' data is extremely secure
(PRWEB UK) 23 January 2015
As a fast growing company Zopa has sensibly prioritised efficient IT infrastructure as business critical and as a company that specialises in online lending, they deal with sensitive data which requires a responsibility to be in accordance with data protection acts.
Zopa now benefit from a large bandwidth and super-fast 100mbps Leased Line from their HQ to the C4L network where a fast, private and secure circuit runs between Zopa's Data Centres, forming a unified solution. This is to safeguard their customers' data even further through a Disaster Recovery site.
Matt McGuire, Zopa's CTO said: "We are very pleased with the service we have received from C4L and the solution they have created for us. Our customers' data is extremely secure and in terms of our business, the private circuits will ensure open access efficiency between our office and Data Centres."
Darren Mountifield, Account Manager at C4L, said: "It is great that Zopa have taken the right steps to ensure their customers' data is protected to the highest level. A large bandwidth private circuit and secure colocation is an idyllic IT infrastructure for a company dealing with large amounts of sensitive data, their customers should be reassured by their steps. To work with a likeminded company saving customers money is something we are proud of."
Zopa has grown significantly – doubling lending annually since 2009 - due to being the world's first peer-to-peer lending company having now lent over £715m. They allow people to bypass banks and their high charges, to put more back in to the pockets of UK's consumers.
About C4L
C4L is a leading data centre colocation and connectivity solutions provider, with access to over 100 UK data centres and more than 300 globally. C4L offer a range of services including colocation, connectivity, cloud and communications. With their own data centre located on the South West coast and a fully privately owned, high-capacity, 1-100Gb capable fibre-optic network, utilising equipment from leading technology vendors such as Juniper, Extreme and Cisco. This network called coreTX, links multiple data centres across the UK using a diverse fibre optic backbone and DWDM technology to provide very high performance.
C4L clients include government agencies, FTSE 250 companies, international financial institutions, system integrators, top 100 VARs, resellers and many of the UK's network carriers. Our entire business is committed to customer satisfaction and quality of service and we have achieved certifications such as ISO9001 & 27001 to demonstrate this. C4L was the 2012 winner of HSBC's South West Business Thinking initiative, and has been ranked in the Deloitte Technology Fast 50 and Fast 500 EMEA, as well as the Sunday Times Microsoft Tech Track 100.
For more information visit http://www.C4L.co.uk/pr, or Tel: Jade Yarham +44 (0)8000 470 481 Ext 736
About Zopa
Zopa is the UK's largest peer-to-peer lending service - bypassing banks and their high charges to put more back into the pockets of the UK's lenders and borrowers. Zopa matches smart borrowers looking for lower-rate loans with lenders looking for higher interest. Since Zopa was founded in 2005, it has arranged more than £720 million in peer-to-peer loans and has been voted 'Most Trusted Personal Loan Provider' in the Moneywise Customer Service Awards for the past five years and Consumer Moneyfacts best overall customer service in 2014. Zopa has over 50,000 active lenders.
For more information please visit http://www.zopa.com or Tel: Mat Gazeley +44 (0) 207 291 9057 email: pr(at)zopa(dot)com