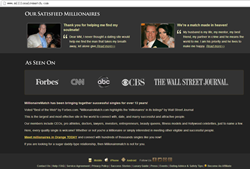 Los Angeles California (PRWEB) January 24, 2015
Three questions about ex partners were posted on the millionaire matchmaker site MillionaireMatch.com on Jan 12.
The three questions were:
1) Do people hate or thank their ex(es) after breaking up?
2) Will people still be friends with their ex(es)?
3) How long will people take to step into a new relationship after they just broke up with someone?
The majority of members in the millionaire club were reluctant to speak on their past. They think people should keep their past in the past and close the book when the relationship is over. They consider their past as a part of growing up even though it is painful. Most people have had their heart broken. It is reasonable that they do not want to talk about their painful experience in the past.
What people discussed most was the second question: will people still be friends with their ex partners? It is one of the hottest topics ever in the dating world. Participants on the blog shared their own perspectives.
Some members shared their past love stories with others. Their breakup or divorce did not make them have a hateful feeling towards the other part. They praised their exes for their good qualities and the wonderful personality. They said they were still friends with their ex partners or ex-husband/ex-wife.
However, a large group of members did not accept a friendship between exes under any circumstances. Their perspective was, "If two past lovers can remain friends, it's either they were never in love or they still are!" To support their point of view, some quoted the words of Britney Nicole, "An 'ex' is called an 'ex' because it's an EXample of what you shouldn't have again in the future."
Meanwhile another group of members on this millionaire dating site stated that they did not get in touch since their present-day spouses did not permit them to associate with their exes. They thank their ex partners and hope they have a good life.
There is no exact answer to the third question. It depends. But many agreed to the fact that it would take a while to get in to a new relationship. A wounded heart needs time to heal.
About MillionaireMatch.com
MillionaireMatch.com is the largest millionaire dating site which has been bringing together successful singles for over 12 years. It was voted "Best of the Web" by Forbes.com. Its members include CEOs, pro athletes, doctors, lawyers, investors, entrepreneurs, beauty queens, fitness models and Hollywood celebrities, just to name a few.