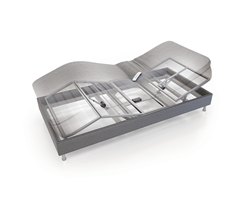 Guderup, Denmark (PRWEB) January 26, 2015
Not only are leisure beds getting bigger and heavier, the demand for sophisticated features, such as massage, bed light etc., is increasing as well. LINAK® experiences a huge demand for complete high force actuator systems adapted to these new demands.
In order to meet this, LINAK has developed the single actuator system CBH. A bed with a single actuator system CBH can range from a simple two motor solution with handset to sophisticated systems with massage, accessories and wireless handsets.
CBH product signature – Compact. High force. Complete system.
The single actuator system CBH is a high force system ensuring a high lifting capacity for maximum flexibility when it comes to the choice of mattresses. With the single actuator system CBH, you are offered a complete system, which is easy to integrate into the bed and intuitive to operate.
The control box CBH has a simple, compact and lightweight design, and it is fully integrated into the unique design of a bed, ensuring an easy and intuitive controlled soundless motion to improve the comfort of the user.
A smooth, noiseless and reliable action with sufficient power to handle the required load for years and years – the trademark of LINAK HOMELINE.
One product. Two variants.
The single actuator system HOMELINE CBH is available in two variants; the Basic control box system for 2 channel solutions for economy beds and the Advanced control box system featuring 2 channels for linear actuators and 2 channels for massage motors and wireless handset for beds offering extra comfort.

The CBH Basic is compatible with the linear actuator LA27 and wired handset series HB10. The external power supply can be the SMPS001 (230V) or the SMPS002 (120V)
The CBH Advanced is compatible with the linear actuator LA27, massage motors (MD1) and wireless handsets. The external power supply can be the SMPS001 (EU), the SMPS002 (US) or the universal SMPS006. Optionally, the CBH Advanced features extra accessories like under bed light or it can be combined in parallel systems. HOMELINE accessories like the LED LIGHTBOX, DC CONNECTOR and USB CONNECTOR an also be applied
No matter your choice of CBH control box, you will benefit from the well-known hallmarks of LINAK: high quality, superb performance, pleasant sound, Plug & Play – and combined with a compact design.
Green solution
From an environmental view, the CBH system features "ZeroTM technology"- a good environmental choice with extremely low power consumption in standby mode of only 0.1W.
For further information about the CBH series, please watch this video.
More information on LINAK, please check http://www.linak.com/homeline.
For further information on the CBH product, please contact your local LINAK subsidiary or distributor.
Facts:
LINAK provides innovative actuation solutions that improve people's quality of life and working environments. We are globally recognised for high quality, technically advanced and innovative systems. LINAK has approx. 1,900 dedicated employees, and we are represented globally through distributors and subsidiaries. Currently, our production sites are in Denmark, the USA, China and Slovakia - and we are continuously expanding our markets.