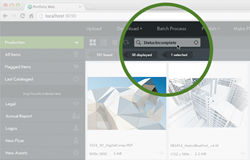 The detailed reporting information will make it easier for admin staff to understand how their system is being used and to demonstrate the ROI
Northampton, UK (PRWEB UK) 2 February 2015
Extensis® today announced new updates to Extensis Portfolio™, a modular digital asset management (DAM) system that makes DAM affordable for companies of all sizes. Originally released in October 2014, Portfolio transformed the user experience with suggested, guided search capabilities, millisecond results powered by Elasticsearch® technology, a sleek new user interface and elegant thumbnail views.
Today's release of version 1.5 builds on this experience, adding full compatibility with Apple® OS X® Yosemite (v10.10) and advanced reporting options. Responding to customer interest in learning more about how their files are being used, Extensis built in new reporting options that provide valuable data such as file usage data (who downloads files and when) and which assets are most downloaded. Reports can be exported, allowing companies to track assets, analyse usage trends and focus their creative team's time where it matters most.
"As anyone who has ever deployed a DAM system will tell you – Gaining user acceptance is key to the success of the project" said Richard Bamford, EMEA Business Director at Extensis. "The detailed reporting information will make it easier for admin staff to understand how their system is being used and to demonstrate the ROI"
Additionally, Extensis has extended the power of Elasticsearch technology to Portfolio NetPublish®, delivering results at the same lightning fast pace in Portfolio's web portal.
Version 1.5 also bolsters Portfolio's overall processing power, with added features that increase the efficiency of importing, copying, updating, converting and exporting assets.
Richard Bamford added that "another challenge with any DAM system is managing the users' expectation to expect search results quickly" and that "Portfolio doesn't disappoint in this respect- in fact it delivers results so quickly it's faster than you can think".
For a complete list of features and additional information on Portfolio, visit http://www.extensis.com/portfolio.
See the Product in Action
For an online demo of Portfolio, click here
Pricing and Availability
Portfolio version 1.5 is available to existing Portfolio customers for free, and is included in the full version of the product for new customers starting at estimated retail price of $2,199US. Competitive upgrades are available for a variety of products.
Portfolio is available in English, French, German, Spanish, Italian and Japanese.
About Extensis' DAM Solution: Portfolio
With the explosion of digital assets and media over the past decade, companies across the globe are facing an increasing issue with how to keep them organised, accessible and everyone using the right versions. Inefficiencies are growing, with companies losing time and money trying to locate files. Portfolio ensures users have immediate access to the correct files in the desired format in a central location. It is the only digital asset management solution that is affordable, simple to use, can be setup within a day, and provides everything organisations need to get started right out of the box. As a standards-based platform that works with other systems and existing workflows, Portfolio provides a single place for teams to locate important files with consistent metadata information using a web browser or Mac and Windows desktop applications. Portfolio is ideal for anyone with large collections of images, videos, and marketing collateral.
About Extensis
Celebrating more than two decades in business, Extensis® is a leading developer of software and services for creative professionals and workgroups. Their solutions streamline workflows, securely manage digital assets and fonts, and control corporate typographic branding. Used by hundreds of Fortune 5000 companies, Extensis' award-winning server and desktop products include: Portfolio® for digital asset management, Universal Type Server® for server-based font management, and Suitcase Fusion® for single-user font management. Founded in 1993, Extensis is based in Portland, Oregon, and the United Kingdom. For additional information, visit http://www.extensis.com
© Celartem, Inc. d.b.a. Extensis All rights reserved. Extensis and the Extensis logo mark, Suitcase Fusion, Portfolio Server, Portfolio NetPublish, Portfolio Flow and Universal Type Server are trademarks or registered trademarks of Extensis in the United States of America, Canada, the European Union and/or other countries. This list of trademarks is not exhaustive. Other trademarks, registered trademarks, product names, company names, brands and service names mentioned herein are property of Extensis or other respective owners.
Apple and Apple OS X are trademarks of Apple Inc., registered in the U.S. and other countries.