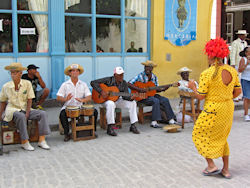 It is also important that the industry recognises that for local people, proud as they are of their history and independence, a changing Cuba is not necessarily a bad thing
Brighton, UK (PRWEB UK) 26 January 2015
Responsible Travel, the leading comparison site for small holiday companies has announced that a 15 day cultural tour of Cuba is the most enquired-about holiday of 2015 so far. Enquiries in January for the trip have more than doubled compared to last year and interest in the holiday is at an all-time high. The dramatic increase comes as the relationship between the USA and Cuba is reported to be becoming friendlier, with Barack Obama calling on the US Congress to end the 50 year trade embargo to Cuba, and the highest-level of talks in over a decade concluding between the two nations.
Two of the top 3 most enquired-about holidays via Responsible Travel in 2015 so far are to Cuba:
1. Cuba - http://www.responsibletravel.com/holiday/3908/cuba-tours
2. Northern Lights, Finland - http://www.responsibletravel.com/holiday/14555/northern-lights-tailor-made-holiday-in-finland
3. Cuba - http://www.responsibletravel.com/holiday/13669/discover-cuba-holiday-15-days
Justin Francis, managing director of Responsible Travel comments "I believe there is an increasing sense among tourists of the need to 'go there now, before it all changes', before freer trade relations with the USA allows more international influences into the island.
"However, while tourists rush for a once-in-a-lifetime glimpse behind this modern Iron Curtain, the reality for local Cubans is much less romantic; with state rationing, scant access to manufactured goods and highly qualified professionals forced to take jobs as taxi drivers and waiters to avoid the meagre state salary.
"As the Cuban government eases restrictions, and tourism increases, there are more and more opportunities for Cubans to own their own businesses, to supplement incomes and to access the resources we take for granted.
"I'd hope that there would be more opportunities for people to run their own tours, open restaurants, learn English, host guests...all the things we celebrate in our other destinations.
"While it will become ever more important that tourism helps to protect and preserve the unique Cuban culture, it is also important that the industry recognises that for local people, proud as they are of their history and independence, a changing Cuba is not necessarily a bad thing."
Responsible Travel's selection of Cuba holidays, all screened for their commitment to responsible tourism, can be found at http://www.responsibletravel.com/holidays/cuba.
-Ends-
Notes to editors:
About responsibletravel.com
responsibletravel.com is the world's leading online travel agent for responsible holidays and a pioneer of responsible tourism. Started in 2001 with backing from Dame Anita Roddick of The Body Shop the site's mantra is 'travel like a local'. It sells holidays that are about more than just a brief stay somewhere - instead it is travel that offers a real connection with the people, the landscape, the culture, the food and the environment. It offers over 7,500 responsible holidays from over 3,000 holiday providers which all support communities and conservation. Handpicked local specialists provide authentic holidays for those seeking types of holidays as diverse as Arctic cruises - http://www.responsibletravel.com/holidays/arctic-cruises, wildlife conservation - http://www.responsibletravel.com/holidays/wildlife-conservation and cooking - http://www.responsibletravel.com/holidays/cooking.
In addition responsibletravel.com:

Is quickly becoming the leading online publisher of responsible tourism content with an expanding portfolio of 130 travel guides by February 2015.
Founded and organises The World Responsible Tourism Awards, celebrating 12 years at World Travel Market this year.
Campaigns for positive change in the travel and tourism industry.
CEO Justin Francis has been included in Courvoisiers The Future 500, Thames and Hudsons 60 Innovators Shaping Our Creative Future and taken his place on the Advisory Board of The International Centre for Responsible Tourism at Manchester Metropolitan University.
The company is based in Brighton's North Laine district, England.
Contact:
Sarah Bareham
press(at)responsibletravel(dot)com
01273 829 269 (UK)