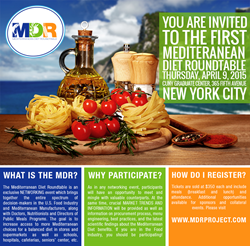 The Mediterranean Diet is a pattern, not a limited list of specific products, 'superfoods' and recipes. As such, there are endless possibilities to be creative, using a mix of local and international products.
New York, NY (PRWEB) January 27, 2015
The organizers of the Mediterranean Diet Roundtable (MDR) are pleased to announce their first national event, to be held on Thursday, April 9, 2015 at the Graduate Center of CUNY University, New York City. It will bring together the entire spectrum of the U.S. Food Industry along with many Mediterranean Manufacturers for a one-of-a-kind networking and informative event. The goal is to explore new and better ways of preparing menus inspired to the Mediterranean Diet, whose medical appeal and health benefit are proven to be unquestionable.
The program, which will encompass Retail & Food Service, includes a discussion on all levels of market trends, scientific appeal and nutrition aspects, menu engineering, stores and cafeteria strategies, and best practices in mass feeding programs: attendees will gain a better understanding of the health values and commercial benefits of sourcing Mediterranean products for their respective clients/customers. At the same time, participants will gain information about food market trends and consumers' behavior, information on procurement process, menu engineering, best practices, and the latest scientific findings about the Mediterranean Diet benefits.
Speakers include, among others:

Sara Baer-Sinnott, President of Oldways, a nonprofit food and nutrition organization credited, with the Harvard School of Public Health, and the European Office of the World Health Organization, with having introduced the classic Mediterranean Diet in 1993 along with the Mediterranean Diet Pyramid;
Ken K. Toong, Executive Director of University of Massachusetts Amherst Auxiliary Enterprises, also At-Large Director of National Association of College & University Food Services (NACUFS).
Debby Kasper, RDN, LDN, SNS, Director of Clinical Nutrition and Wellness Program Development at Premier, Inc. - a healthcare performance improvement alliance of approximately 3,400 U.S. hospitals and 110,000 other providers. Premier's mission is simple: To improve the health of communities.
The scientific panel is led by Italian professor Giovanni Scapagnini, M.D. Ph.D. who also serves on the "International Network of the Centers on Genetics Nutrition and Fitness for Health," in Washington, D.C.
Tickets to participate and additional opportunities are available at http://www.mdrproject.com