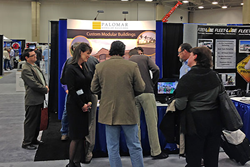 DeSoto, Texas (PRWEB) January 23, 2015
Palomar Modular Buildings will be exhibiting at the New Mexico Association of School Business Officials Winter Conference. The Annual Conference is being held at the Crowne Plaza Hotel in Albuquerque, New Mexico from February 11-13. Palomar works closely with educators in New Mexico to provide a selection of buildings for the public and private education markets, including temporary or portable classrooms, and complete school campus complexes.
The NMASBO Winter Conference features a comprehensive selection of concurrent sessions, including examples of innovative practices in school districts throughout the state, as well as sessions that highlight the collaboration between NMASBO and other organizations, topics of legal interest, statutory and policy matters, and NMASBO programs.
About Palomar Modular Buildings
Palomar Modular Buildings manufactures advanced modular buildings for a range of industries including office, retail, healthcare, education and workforce housing. The company's state-of-the-art manufacturing facility in DeSoto, Texas, is staffed with a dedicated workforce of skilled tradesmen and production managers that have produced hundreds of modular projects from simple additions to complex new facilities.
# # #
If you would like further information about this press release or to schedule an interview with John Martin, please contact John Martin at jmartin(at)palomarmodular(dot)com or call 1-866-312-4032.