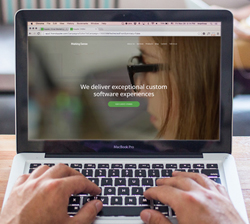 Every section of the site was regarded as a specific landing page, taking into account, and focussing on the different needs of the public.
San Antonio, Texas (PRWEB) January 27, 2015
On Thursday 22nd of January, Making Sense's new website was launched. Acquainted with the fact that their previous site needed to be enhanced, their main aim to achieve that improvement was to consolidate the design, processes and structure by showing what they are capable of from the development,design and UX point of view.
Having dealt with this new project from scratch allowed them to improve many processes and methodologies on the way, which finally led them to a new, updated and intuitive website that counts with a more appealing and better organized design.
Making Sense's corporate identity was clearly reflected in the project's outcome since, from the beginning, an interdisciplinary job was carried out between the company's stockholders: The Human Resources, Sales, Marketing, Development and Design Departments work together with one clear objective in mind.
The fact that the working teams were created in the first place allowed to consolidate the practices from the beginning, and the standardization of criteria clearly benefitted the positive outcome.
As it has been stated before, the key to meeting the final aim was the creation of a professional working team. Thanks to every member's predisposition, hard work and professionalism, great results were obtained and many others far exceeded their expectations.
Meet those who took part of the great challenge:
Product Owner: Nancy Medica
Project Manager: Martin Fantini
Tech Lead: Damián Muti
Lead designer: Lisandro Martínez Basavilbaso
Development: Nicolás Croce, Federico Coronel, Candelaria Vidal, Federico Cardoso, Luis Esquivel, Fede Croce
QA: Nadia Vega, Sebastián Carte
Content: Luciana Caltabiano, Natalia Martinez Lopez
Their main challenge was to start the project as if the website was being created was for a client, not for themselves. It is also worth mentioning that the Agile methodology was used for developing the new site. The settled tasks were carried out in different sprints (lapses of time of 15 days), which allowed a closely and detailed follow-up of every task, resource, and final result obtained. This was as well an essential approach for the assessment and constant improvement of the procedures used. Within every sprint, tasks related to the new site and blog were created, but also maintenance tasks of the old site were being carried out.
Another feature and improvement that the release had was that it encompassed new integrations such as Youtube API and Marketing Automation.
Their Lead Designer, Lisandro Martinez Basavilbaso, stated that "A modular design allowing a smooth articulation among the different contents block was carried out, both in the different resolutions as well as in the different devices". This was meant to offer the adequate experience to every user in every particular context.
Their aim was to display the new website in a structural way so that not only their skills were highlighted, but also the whole comprehensive process they offer.
While surfing the site from a desktop computer, it can easily be observed that when a "minimum width" is achieved, the site will no longer adjust itself and will instantly be blocked in that resolution. But this doesn't mean that when the site is surfed from a mobile device, it won't be appreciated correctly. On the contrary, they believe that while doing a desktop surf, it is not necessary for the site to be adjusting itself for a while, since this isn't its habitual use. In every other device, every user will be able to surf undergoing their own and adequate experience.
As an international company with a development center located in Argentina, we are consciously aware that our public will vary from section to section. For instance, the Careers' section visitors (mostly students or graduates) will be very different from the Services' section ones.
Usually, and almost as a regular practice nowadays, most content interactions are carried out through JS, making use of internal plugins or developments codes.
But, on the contrary, they decided to use HTML and CSS exclusively for every interaction, whether they are animations, accordions, fades, or even modal dialogs. This allowed them, among other things, to work in a process by which all content hidden by default can be accessed through the interaction with a button by means of the URL, making use of anchors, an HTML native feature.
Apart from the semantic, cleaning and code performance advantages, it also allows the communication and marketing team to generate campaigns addressing those hidden contents to which it wouldn't be possible to obtain access through an URL.
In most cases, during the development processes, the priority is given to the developers' ease and speed, what usually damages the experience quality and the users' usability and accesses needs. Therefore, since the beginning, their aim was to give priority to the user experience and to the quality of the final product.
About Making Sense
Making Sense is an IT company that has specialized in the development and implementation of software and web applications for different companies since 2006. It has over 130 employees who work in different offices located in the United States, Argentina and Mexico.
The company offers the latest software development strategies, and has many worldwide partners. Some of its most prominent clients include Rackspace, DELL and AMD. Making Sense is well-known for including Doppler™, the most widely used email marketing tool in Latin America, which allows users to create, send, analyze and optimize email marketing campaigns very simply, quickly and effectively. And Lander™, a software tool that enables the creation of professional landing pages in minutes and reaches active users in more than 132 countries worldwide.
In recognition of its valuable work in fostering ArgenTIna IT outsourcing to the U.S., Making Sense received a special mention at the Polo IT Buenos Aires event in December 2012 and was chosen as the national representative of the United States ArgenTIna IT office in Austin, Texas.
Consistently demonstrating a high degree of technical excellence, Making Sense is passionate about maintaining strong commitments to offering outstanding service and quality custom software products.
In 2013, two products developed by Making Sense were nominated to the prestigious Sadosky Awards: VidTac (developed by Making Sense for COPsync) gives police department patrol cars high definition video capability while cutting equipment costs. It was developed through joint collaboration with COPsync, which operates the nation's largest real-time information sharing, communication and data interoperability network for law enforcement agencies.
The prestigious Sadosky Awards are bestowed each year by CESSI, The Chamber of Software and Computer Services of Argentina, in honor of Manuel Sadosky, an illustrious scientist widely regarded as the father of the Argentinian computer science profession. They celebrate and honor excellence and innovation in the Argentinian software industry. Making Sense is pleased and honored to announce that its product Lander won the 2013 Sadosky Award in the category of Best Information Entrepreneurship Product and was also recognized by Awwwards winning "The Site of the Day" and "Developer Award" for the most useful, innovative, and responsive website development project.