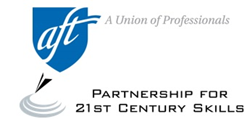 We are thrilled to be working closely with AFT again and have the support of both of the nation's teachers' unions in ensuring equitable, high-quality outcomes for students nationwide. - Stephan Turnipseed, P21 Chair; LEGO Education President Emeritus
Washington, DC (PRWEB) January 26, 2015
The American Federation of Teachers is joining forces with P21, the Partnership for 21st Century Skills, to expand their work in building a new educational accountability system and other ways to ensure that educators and students get the resources and support they need to succeed, the two groups announced today.
The AFT and P21 have spearheaded the conversation about re-envisioning accountability, led by Stanford University Prof. Linda Darling-Hammond and other leading educational organizations as part of the New Social Compact for American Education (http://www.newaccountability.org). The collaborative effort on accountability aims to replace "test and punish" accountability systems with a "support and improve" system that focuses on giving teachers and students the necessary resources and assistance to improve teaching and learning.
As a P21 member, AFT President Randi Weingarten will serve on the P21 Strategic Council—a diverse coalition representing business, education and policy leaders.
"We need an accountability system with an emphasis on supporting teachers and giving them targeted assistance to improve, decoupling high-stakes consequences from standardized tests and using multiple measures to evaluate teachers and use the data to inform instruction," Weingarten said.
"AFT's renewed membership will help steer the groundbreaking work on reframing the conversation in education towards high-quality, meaningful learning opportunities for all students," said Stephan Turnipseed, chair of P21 and president emeritus and executive director of strategic partnerships at LEGO Education. "We are thrilled to be working closely with AFT again and have the support of both of the nation's teachers' unions in ensuring equitable and high-quality outcomes for students nationwide."
P21 is proud to continue its collaborative nonpartisan work to engage leaders in education, the business community, policymakers, and 19 partnership states to support student readiness for college, career, and citizenship along the entire continuum of learning.
The American Federation of Teachers represents 1.6 million professionals who champion fairness democracy; economic opportunity; and high-quality public education, healthcare and public services for our students, their families and our communities. http://www.aft.org
P21 is a national organization that advocates for 21st century readiness for every student. As the United States continues to compete in a global economy that demands innovation, P21 and its members provide tools and resources to help the U.S. education system keep up by fusing the 3Rs and 4Cs (critical thinking and problem solving, communication, collaboration, and creativity and innovation). While leading districts and schools are already doing this (see Exemplar Program), P21 advocates for local, state and federal policies that support this approach for every school. http://www.p21.org and @P21CentSkills
P21 Members: American Camp Association, American Federation of Teachers, Apple Inc., Asia Society, Bahcesehir K-12 Schools, Cable Impacts Foundation, The College Board, Common Sense Media, Crayola, Destination Imagination, Duck Learning, EdLeader21, EF Education, Education Networks of America, Fisher-Price, Ford Motor Company Fund, Future Problem Solving Program International, Gale Cengage Learning, Goddard Systems Inc., Intel Corporation, Learning.com, LEGO Education, National Board for Professional Teaching Standards, National Education Association, PBS, Pearson, People to People Ambassador Programs, Project Management Institute Educational Foundation, U.S. Fund for UNICEF, VIF International Education, and The Walt Disney Company.
P21 Leadership States: Arizona, California, Illinois, Iowa, Kansas, Kentucky, Louisiana, Maine, Massachusetts, Nevada, New Jersey, North Carolina, Ohio, Oklahoma, South Carolina, South Dakota, Vermont, West Virginia and Wisconsin.
Media contacts:
Janet Bass, AFT, jbass(at)aft(dot)org, 202-879-4554
Tatyana Warrick, P21, tatyana(at)p21(dot)org, 202-312-6430