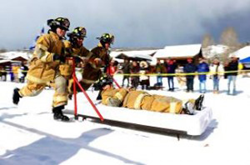 Granby, Colo (PRWEB) January 25, 2015
From cross-country races to family-friendly competitions the towns of Winter Park and Grand Lake are hosting some of Colorado high country's best winter carnivals in Grand Country, just west of Denver.
Winter Park 75th Anniversary Celebration (Jan. 24, http://www.playwinterpark.com) This 75th anniversary celebration invites one and all to take part in a gala at The Lodge at Sunspot at Winter Park Resort, Stagecoach Classic - a cross-country ski/snowshoe race from Tabernash to Winter Park, and a downtown Winter Park main street parade followed by fireworks in Hideaway Park.
Winter Park Resort 75th Anniversary Celebration (Feb. 7-15, http://www.winterparkresort.com)
Nine straight days of events and activities from ski races and freestyle competitions to snow sculptures at the lifts to special Village events, the entire resort will be a hub of activities. Winter Park's Ski + Ride School will be holding camps during the week, including the popular Bob's Bump Jamboree and Bob's Mogul Camp, both of which specialize in how to tame Mary Jane's world-famous moguls. The Village at Winter Park will be hopping all week long with a broomball tournament, live music, a Mardi Gras Celebration, and a much more.
Grand Lake Winter Carnival Includes Rocky Mountain National Park 100th year Celebration of Wilderness, Wildlife, Wonder (Feb. 7, http://www.grandlakechamber.com) – The winter carnival, in picturesque Grand Lake, features a full day – and evening – of snow- and ice-focused fun. The town, located 100 miles northwest of Denver on the shores of the largest natural lake in Colorado, becomes a snowy wonderland during the winter, with crisp, dry air, crystal-blue skies and the peaks of the Gore Range.
Local residents and visitors participate in activities that range from the traditional and classic to unusual and even wacky. This year's carnival is a celebration of Rocky Mountain National Park's Centennial, showcasing the wilderness, wildlife and wonder of the park. Attendees will find a wild snow-sculpture contest; parent-child sled pull; a wilderness, wildlife and wonder street parade; and the ever-popular bed-sled races. For the sports enthusiast teapot curling and human bowling (complete with both kids' and adults' courses) are on tap. In the evening, activities move indoors with live music, awards, crowning of the snow king and queen, and a ball. The event, which is free for all spectators, concludes outdoors with fireworks over the lake.
Check out Grand County's Facebook page at http://www.facebook.com/grandcountycolorado and follow @grandcountyco on Twitter or http://www.pinterest.com/grandcountyco/ on Pinterest.
About Grand County, Colo. (http://www.visitgrandcounty.com)
Located 67 miles west of Denver, Grand County is home to wide-open spaces, breathtaking mountain scenery and authentic old-west towns. Outdoor recreational activities include golf, boating, fishing, biking, hiking, fishing, hunting, horseback riding, skiing, cross country skiing, snowmobiling, ice fishing, sleigh rides and tubing. The area features more than 600 miles of mapped and marked trails, one national park, two national forests, two wilderness areas, two national scenic byways, two major ski resorts, five world-class dude ranches and four mountain golf courses. Grand County's extensive water network includes Colorado's largest natural lake, 1,000 miles of streams, 1,000 acres of high-mountain lakes and 11,000 acres of reservoirs.