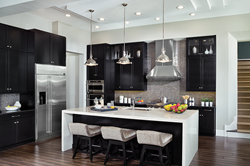 Tampa, FL (PRWEB) January 23, 2015
Arthur Rutenberg Homes published a new article designed to assist consumers to think through the process of decisions when building a home or before undertaking a large remodeling project.
The article walks readers through the elements in a home that need decisions to be made regarding areas like color, lighting and materials.
Often, consumers see interesting concepts on sharing sites or manufacturer product sites that peak interests. However, these concepts may or may not work within the context of what they are doing or want to accomplish. For instance, a dark paint scheme and matching furniture may be very stylish, but if the room does not have the same lighting as the concept, it will appear small and may "feel" more sad than stylish.
The article gives examples of interior design through images and words and points out decision-making elements for consumers to be aware of.
Read the full interior design article here.
For more interior design ideas visit the design galleries for custom luxury homes.