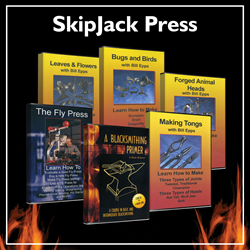 APPLE VALLEY, MN (PRWEB) January 29, 2015
SkipJack Press has been collaborating with Love of Art Productions since 2004, when they decided to produce award-winning author and blacksmith, Randy McDaniel's DVD tutorial, based on A Blacksmithing Primer, A Course in Basic & Intermediate Blacksmithing, a best selling book published by SkipJack Press.
"When the opportunity to acquire A Blacksmithing Primer DVD set was first introduced to us, we felt it was logical addition since we have a great working relationship with author, McDaniel. Once we reviewed the other high-quality productions we decided to acquire the entire product line and further expand our offerings to the blacksmithing community," stated company President, Alan Krysan.
In addition to the set featuring SkipJack author McDaniel, they also acquired several other high-quality DVDs. Bill Epps' DVD tutorials do a great job giving step by step directions on how to successfully create an object. Epps' DVDs include: Forged Animal Heads, Making Tongs, Leaves and Flowers, and Bugs and Birds.
Also being introduced into the SkipJack family is The Fly Press with John Crouchet, this DVD teaches how to evaluate used fly presses, what to look for in a new press, how to make tooling and much more. As with all these DVDs production value is exquisite, making sure viewers don't miss a swing!
All these DVDs as well as a wide-range of other books and DVDs for blacksmithing are available at local booksellers, online at astragalpress.com, or by calling SkipJack at 866-543-3045.
Finney Company was established in 1947 currently has over 400 proprietary publications and distributes over 5,000 quality products, enhancing the company's mission to help improve the quality of lifelong learning worldwide. For additional information about Finney Company, visit http://www.finneyco.com or call 952-469-6699.