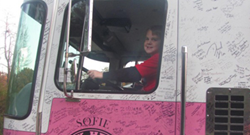 Raleigh, NC (PRWEB) January 23, 2015
With agencies in North Carolina, South Florida and Texas, ProVest Insurance Group reveals another remarkable charity campaign as part of its efforts to support the local communities. The agency is campaigning to raise funds for a North Carolina child fighting a rare type of cancer - Chordoma. The agency announces that those with a compassionate heart for supporting Alex King, can now join the campaign by contributing through the designated donations page at http://www.gofundme.com/alexking.
Jay Adkins, the agency's principal, who has helped touch many lives in the communities where his agencies are inserted, attested, "I can't imagine what this family is going through. Alex has already endured 24 of the 42 total expected proton beam radiation treatments. Our agency wants to do anything and everything possible to help this family in their time of need. We are on a mission to make this campaign successful, so some financial burden can be lifted off their shoulders."
The agency has joined the efforts to reach a goal of $8,000, which will help alleviate some medical costs for upcoming daily radiation treatments Alex is undergoing in Florida. To help achieve that goal, the agency's network of customers, business partners, friends, staff and family are being invited to actively participate by not only contributing financially, but also by helping spread the word to others.
ProVest Insurance Group continues to employ its own resources to ensure the success of their community program. The current campaign is being promoted through the agency's social media channels, email and text message communications, as well as through their monthly magazine, delivered to thousands of households in North Carolina, South Florida and Texas. In fact, Our Hometown magazine reserves a full page to feature this worthy cause, even acknowledging all of those who donate a minimum of $5 through the donations page at http://www.gofundme.com/alexking. The electronic Flipbook version of the current issue can be accessed here: http://provestinsurance.com/Our-Hometown-Magazine_10.
ProVest Insurance Group will continue to work with individuals and nonprofits in the area to identify new worthy opportunities to support the community, every 60 days. Through the agency's website, any members of the community can also submit information on known families or persons who could use some help – http://provestinsurance.com/Submit-A-Community-Cause_25. Entries are diligently submitted for review, and the elected worthy causes are properly contacted by a representative of ProVest's Community Program. More information regarding past and current campaigns supported by ProVest Insurance Agency can be found at http://www.provestinsurance.com/community-cause.
About ProVest Insurance Group
ProVest Insurance Group's mission as a team is to provide the best insurance and financial services in the industry. Their number one job is to protect the current assets clients have worked so hard for, and to help them invest so they can retire with the right amount of money. ProVest's success is measured by customer satisfaction and the value they bring. The capable agents at ProVest can be easily reached at 1-855-298-7427.