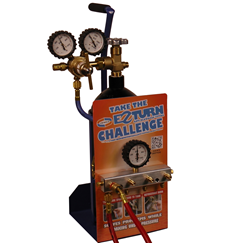 Fort Lauderdale, FL (PRWEB) January 23, 2015
Uniweld introduces the EZ Turn™ Spanish video to meet the needs of the Spanish speaking population in the U.S. and international markets. More than 50 million people (approximately 15%) speak Spanish in the U.S. alone. Additionally, Spanish is the national language in over 20 sovereign states, totaling around 423 million Spanish speaking people. Compare that to the U.S. population of 315 million people, and one quickly sees why Uniweld places importance on providing Spanish content.
Uniweld Products, Inc. has introduced a Spanish video which showcases the brand new EZ Turn™ Anti-blowback Hose. The "EZ Turn™ Challenge" is shown in this informative Spanish video. The video effectively demonstrates how the EZ Turn™ fitting works by using a well-designed demo stand. The stand is equipped to connect to a nitrogen tank that will deliver pressure to four access fittings. Service hoses can be connected to these access fittings while under pressure, creating an in-the-field experience and allowing end users to feel the difference between popular service hose currently being used in the industry and the new EZ Turn™ hose. The demo stand is appropriately labeled "Take the EZ Turn™ Challenge!" as it gives technicians an opportunity to try their favorite hose from their truck and compare it to the EZ Turn's new technology.
The EZ Turn™ fitting was designed to be rebuilt while on the job. Over time, aggressive refrigerants and POE oils will deteriorate the rubber gasket and O-Rings in the hose and they will need to be replaced. All EZ Turn™ fitting internal parts are replaceable. A separate EZ Turn™ Spanish video shows the process of the rebuild in this easy to follow Spanish tutorial.