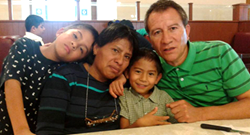 Our goal is to help alleviate some of the financial strain and pain this family is now facing
Chicago, IL (PRWEB) January 24, 2015
With two agencies in the Chicago area, Tunnell Insurance Agency divulges a remarkable charity campaign as part of its ongoing Agents of Change Community Program. The agency looks to lend a helping hand to the Godsons of agency staff member Diana Hernandez after losing their mother to breast cancer. The family is in desperate need of resources to pay funeral expenses. The agency announces that those who show compassion for supporting these children can now join the campaign by contributing through the designated donations page at: http://www.razoo.com/br/causes/Godsons-Of-Diana-Hernandez
Utilizing its own resources and seeking the help of its own network of customers and business partners, Tunnell Insurance Agency marches on to ensure that all customers, friends, families and neighbors are always in good hands. The agency just recently launched the master charity program of which the current campaign is part of, electing every 60 days a new individual, organization or family in need to receive support.
"I immediately wanted our agency to assist Diana's Godsons when first learning about the passing of their mother and learning of the family's financial situation. Our goal is to help alleviate some of the financial strain and pain this family is now facing. We are kindly asking our clients and friends to consider donating to this worthy campaign. Just a small donation can go a very long way," said John Tunnell the Agency's principal.
The agency will promote the current campaign over the course of the next 45 days, through its social media channels, email and text message communications, as well as through a monthly magazine, delivered to thousands of households in Chicago, where the agency currently operates. Our Hometown magazine reserves a full page to feature the campaign and details of the cause. The electronic Flipbook version of the current issue can be accessed here: http://tunnellinsuranceagency.com/Our-Hometown-Magazine_41
To join Tunnell Insurance Agency in supporting Diana Hernandez 10 and 7-year-old Godsons, donors are encouraged to visit http://www.razoo.com/br/causes/Godsons-Of-Diana-Hernandez, and also share the page with friends and family. Contributors may be acknowledged for their donations through the agency's monthly magazine.
Once the current campaign is over, Tunnell Insurance Agency will continue to work closely with families in need and other nonprofit organizations in the area, to make sure resources are directed to capable hands that can help better the local community. Information regarding past and current campaigns supported by the Agency can be found at http://tunnellinsuranceagency.com/community-cause. More information about the agency's initiative and services can be found at http://tunnellinsuranceagency.com/
About Tunnell Insurance Agency
Tunnell Insurance Agency's mission as a team is to provide the best insurance and financial services in the industry. Their number one job is to protect the current assets clients have worked so hard for, and to help them invest so they can retire with the right amount of money. Tunnell's Insurance Agency's success is measured by customer satisfaction and the value they bring. The agency is also prepared to help customers build a strategy to best achieve their financial goals. To immediately reach an expert at the agency, call (773) 279-8600 or (773) 681-5400