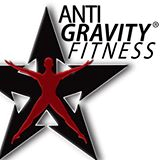 You are only as young as your spine is flexible and your mind is open. When you open up space in the body, you open up space in the mind.
New York (PRWEB) January 24, 2015
Invented by movement innovator and aerial yoga creator, Christopher Harrison, AntiGravity techniques take traditional exercises like yoga, the barre method, pilates and more up into the air, allowing for a larger range of movement and highly elevated health and fitness benefits.
Beyond better joint mobility, a 650 per session calorie burn and better posture, turning a workout upside down (and sideways) has a host of other unexpected perks for both the body and mind.
"While playing within the space where gravity and antigravity converge, you can create beautiful lines and not even know how hard you are working, until you feel your core tight the next day," says Mr. Harrison
Here are just a few of the ways AntiGravity elevates your workout:

Zero-Compression Inversions Relieve Back Pain – Using the aerial yoga hammock, you can get kinks out of your back utilizing reverse traction. By creating space between your vertebral discs for the nerves of your spinal cord, you also hydrate the soft tissue, which often helps relieve back pain in your very first session.
Grow Taller and Look Better in Your Clothes – After class you will be stretched to your maximum height, varying between ¼" to 1 ½" taller.
Beauty Benefits – It's the most effective and least expensive anti-aging technique. One of the best things that one can do for their complexion does not come from a jar. The rosiness of one's skin has to do with the health of the capillaries that lie just below the surface. Inversions, turning the body upside down, is the best and cheapest way to maintain a youthful glow.
It Increases Your Brain Power – Moving freely in all directions of open space creates new neural pathways and synaptic connections, which increases neuroplasticity – your ability to learn. Surprise your body and mind with something new and fun and you stave off the aging mind.
"You are only as young as your spine is flexible and your mind is open," says Mr. Harrison. "When you open up space in the body, you open up space in the mind."
For a behind-the-scenes look at AntiGravity and the new AntiGravity AIRbarre, check out our recent collaboration with SELF Magazine.
About AntiGravity® Fitness:
Christopher Harrison founded AntiGravity® Entertainment originally as a dance company that utilized acrobatic arts as a movement vocabulary in 1991. All AntiGravity Fitness techniques are derived from the performance team's warm-ups and aerial conditioning exercises. Harrison is best known for bringing contemporary aerial arts to Broadway, rock tours and TV award shows and for creating the aerial yoga genre. AntiGravity is now widely considered America's premier aerial acrobatic entertainment being the President's Choice for his Inauguration. AntiGravity® Fitness, founded in 2007, first launched AntiGravity Aerial Yoga forging an entirely new path and creating a new genre. AntiGravity® AIRbarre is now Harrison's seventh fitness technique.
Go to http://www.antigravityfitness.com to find a class near you.
To schedule an interview or to learn more, please contact:
KELZ PR - 646.450.5359
Sheila - sheila(at)kelzpr(dot)com
Patty – pattymathews(at)kelzpr(dot)com