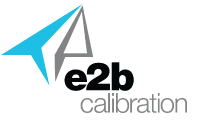 Chardon, Ohio (PRWEB) January 23, 2015
Today e2b calibration, an ISO/IEC 17025 accredited Cleveland Ohio Calibration Lab, announced its sixth consecutive year of double-digit revenue growth.
e2b calibration has seen tremendous growth in recent years, a trend that continued in 2014 when the company recorded 26% increase in year-over-year revenue. In 2014, e2b calibration continued to make investments to increase its capabilities to further improve services across the board for customers in the Avionics, Pharmaceutical, Chemical, and Medical Device industries with a particular focus in the areas of temperature and humidity, pressure and vacuum, and flow meter calibration processes.
"I am proud of the entire team for the work they've done to help the lab achieve such consistent growth over the past six years," said Mark Hanson, General Manager of e2b calibration. "All of their hard work and the investments we've made this year in equipment, HR, and other areas have set our lab and our customers up for success in 2015. With more techs, more automation, and expanded capabilities, I am confident that we will continue to provide our customers with high quality calibration and customer service as we continue to grow in the coming years."
e2b calibration's continuous growth and success was punctuated when the lab, along with its sister company, were named to the 2014 Crain's Fast 50 list, a distinguished list of the 50 fastest growing privately owned companies in Cleveland, Ohio. The company was also given the 2014 NEO Success Award and named to the 2014 Lake-Geauga Fast Track 50 list for the fifth consecutive year as one of the fastest growing and top performing companies in Northeast Ohio.
About e2b calibration:
Located in Northeast Ohio, e2b calibration is an ISO/IEC 17025 accredited calibration and repair laboratory providing a full scope of services (traceable to NIST) for most popular calibration, test, and measurement instruments services. Services are provided in our climate-controlled, state-of-the-art laboratory with on-site services, and local pick-up and delivery available on request. A cloud-based document and asset management portal provide customers with instant access to certificates of calibration, asset information, and reports.