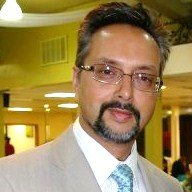 TDWI is the place where data experts come to get better; I cannot think of a better place to be.
Seattle, WA (PRWEB) January 23, 2015
TDWI is pleased to welcome Asim Razvi as vice president of education and research. He will guide the vision and strategy of TDWI's education and research programs and help drive TDWI's response to a changing and evolving market.
"TDWI provides unbiased, in-depth reporting, research, and analysis for business intelligence and data warehousing professionals," Mr. Razvi said. "As we approach our 20th anniversary, we'll continue to offer the most useful and powerful publications and research available, as well as exploring new topics of interest, including big data, Hadoop, social media, and advanced analytics.
Mr. Razvi's background is in mathematics. He started his career in aerospace and was responsible for building the internal software for the C-17 airlifter. However, "despite working on a number of engaging programs, I always felt something was missing. I finally discovered it when I joined an Irvine consulting firm and unintentionally built my first business intelligence (BI) application. That application allowed the company to forecast 10 years and to manage their portfolio as well as cut costs." This experience showed him that an application could directly affect a company's bottom line, and BI became a passion.
Later he ran and grew consulting practices that brought insights and analytics to enterprises. "I became focused on supporting businesses through technology and have worked at two of the big four accounting firms to maximize my understanding of business needs as well as technology."
Mr. Razvi notes that the sheer amount of technology disrupting the industry makes this the perfect time to join TDWI, which he considers the leader in knowledge and research on BI, data warehousing, and analytics. "TDWI is the place where experts come to get better; I cannot think of a better place to be."
TDWI is a division of 1105 Media, Inc. Mr. Razvi is based in 1105 Media's Irvine, California, office.
About TDWI
TDWI is your source for in-depth education and research on all things data. For 20 years, TDWI has been helping data professionals get smarter so the companies they work for can innovate and grow faster.
TDWI provides individuals and teams with a comprehensive portfolio of business and technical education and research to acquire the knowledge and skills they need, when and where they need them. The in-depth, best-practices-based information TDWI offers can be quickly applied to develop world-class talent across your organization's business and IT functions to enhance analytical, data-driven decision making and performance.
TDWI advances the art and science of realizing business value from data by providing an objective forum where industry experts, solution providers, and practitioners can explore and enhance data competencies, practices, and technologies.
TDWI offers five major conferences, topical seminars, onsite education, a worldwide membership program, business intelligence certification, live Webinars, resourceful publications, industry news, an in-depth research program, and a comprehensive website. For more information, visit tdwi.org or follow us on Twitter @TDWI.
About 1105 Media
1105 Media, Inc., is a leading provider of integrated information and media in targeted business-to-business markets, including specialized sectors of the information technology community; industrial health, safety, and compliance; security; environmental protection; and home healthcare. 1105's offerings span print and online magazines, journals, and newsletters; seminars, conferences, and trade shows; training courseware; and Web-based services. 1105 Media is based in Chatsworth, CA, with offices throughout the United States.
Media Contact:
Asim Razvi
Cell: (714) 280 5771
Office: (949) 265 1571
arazvi(at)tdwi(dot)org