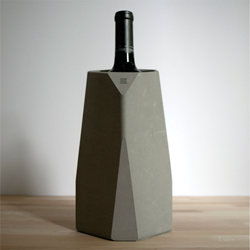 In Argentina, wine is a symbol of high society. The wine cooler is a piece of me, my roots and my life.
Chicago, IL (PRWEB) January 25, 2015
IntoConcrete, the Chicago-based art, design and innovation group, will have its Corvi Wine Cooler showcased at the prestigious Maison&Objet Paris Show from January 23-27, 2015. Thanks to an alliance with Specimen Editions, which will market the Corvi Wine Cooler in Europe and Australia, the wine cooler will have a presence at this exclusive event during its 20th anniversary year.
Created by industrial designer Francisco Corvi for IntoConcrete, the sleek concrete Corvi Wine Cooler has already enjoyed considerable success in the United States. It has attracted the attention of influential blogs and websites such as Forbes, Bloomberg, DesignMilk and Contemporist as has been seen in Food & Wine magazine.
Now, the Corvi Wine Cooler will be exposed to an audience of global designers and buyers at Maison&Objet Paris. The show is a major event for professionals working in the art of living in all its rich and varied expressions. The show brings together a 360° product offering of decoration, design, furniture, accessories, textiles, fragrances, the world of children and tableware. The styles coexist in a multifaceted way, throughout the inventive show design, which enlivens the spaces.
IntoConcrete Founder Mario Guagnelli noted, "It is an amazing honor for IntoConrete to have Specimen feature our Corvi Wine Cooler at Maison&Objet Paris during this very important year in the show's history. This takes our very young company to the next level and exposes our designs to a global market."
Handcrafted in Chicago from soft concrete, a material developed in Sweden, the Corvi Wine Cooler conveys strength in a slender profile and feels soft to the touch. The strikingly modern piece is rooted in its designer's heritage: "In Argentina, wine is a symbol of high society. The wine cooler is a piece of me, my roots and my life," Corvi said.
IntoConcrete is dedicated to showcasing the world's finest examples of modern design and craftsmanship in the realm of concrete. True to form, the Corvi Wine Cooler is an elegant option for wine lovers searching for a sophisticated way to store their favorite vintage.
Because the Corvi Wine Coolers are handmade, each boasts textural and surface variations that make each piece unique. Adding to their appeal is the fact that concrete items can't be mass-produced. It takes patience to make one piece per mold per day – a time-tested process that can't be sped up. The combination of old-fashioned craftsmanship and modern sleek design is what makes the pieces so sought-after.
Aside from its contemporary character, concrete is an ideal functional medium for maintaining temperature. After being placed in the freezer, it remains chilled for an exceptionally long time due to its mass. Individual coolers also can be stacked in an infinite array of designs to create a personalized wine cellar.
About IntoConcrete:
Chicago-based IntoConcrete is an art, design and innovation group whose mission is showcase the very best examples of modern design and artisan craftsmanship currently available within the realm of concrete. IntoConcrete.com seeks to present concrete as a fascinating material that can be crafted into virtually anything, resulting in beautiful, innovative and timeless designs. The site is currently working with today's concrete visionaries from around the world based in countries ranging from Argentina to the Netherlands. Visit intoconcrete.com for more information.
About Specimen Editions:
Specimen Editions is an esteemed Parisian furniture publishing house that was founded in 2009 and promotes its contemporary vision of design through limited editions, furniture on demand and industrial design.