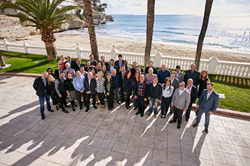 Founder and CEO of GKhair, Van Tibolli says: "Success is will, a decision, and hard work. Speaking to several distributors and hearing the excitement and passion to grow a strong business is encouraging and inspiring."
Palma de Mallorca, Spain (PRWEB) January 25, 2015
GKhair executives were honored to host the annual International Distributor Conference in this world-renowned European vacation spot. The International Conference took place from 16th-19th of January at the prestigious Hotel Santos Nixe Palace. When welcomed by GKhair's Founder and CEO, Van Tibolli and the GKhair Team at this captivating location, GKhair's Guests were inspired by the unequaled location of Hotel Nixe, with a captivating Cala Mayor Beach motivating them to achieve success and grow their individual businesses in 2015. GKhair's Top Distributors travelled to the paradisiac Island of Mallorca from all over the world, including the USA, Ukraine, Turkey, France, Sweden, Pakistan, Algeria, Kazakhstan, Portugal, and many more.
Van Tibolli, Corp CFO, Darren Smith says: "The international conference is important for the brand as it provides a relaxed and comfortable setting for the GKhair team to discuss with their distributors the brands opportunities and news for the coming year on a global basis. It is also an ideal setting for our distributors to engage with their international colleagues and share their success stories."
The Passport to Success Conference started with presentations from GKhair's Team and CEO, Van Tibolli. The presentations during the conference explained 2015's objectives and direction moving forward in terms of new products' launches, trainings and business strategies.
Van Tibolli, Corp International Creative Director, Misha Belfer presented the New Juvexin Cream Colors and education structure with the help of beautiful Spanish hair color models.
Italian Distributor Italo Spaccini says: "A special congratulation to whom created and formulated the new colors: the size, the packaging, the color chart and the shade confirm to us that Van Tibolli's idea is to enter in a high competitive field not as a normal competitor, but as a leader. All the models had intense colors, and shine, a rare quality in the hair color market."
GKhair began with the vision and values of the CEO and founder Van Tibolli. From the start Van has been an innovator in "the science of hair." His concept is very simple; develop and create the best products by using the highest quality ingredients available in the hair care industry. GKhair's superior hair care products are produced by extensive research and development to deliver beautiful, healthy and tamed hair.
French Distributor Delorme says: "This annual Conference with all GKhair distributors from all over the world is very interesting. Discussing how to promote the products is a great thing to do. We talked about all 2015 news and look forward to organizing a GKhair event in Paris later this year!"