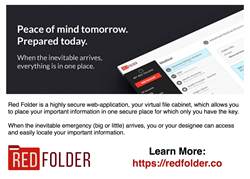 Prevendra will leverage the input of the advisory board as it continues to offer highly secure applications and relevant content ~ Christopher Burgess
Woodinville, WA (PRWEB) January 26, 2015
Prevendra today announced the initial members of its corporate advisory board which will provide strategic direction and expertise to the organization. The board members will also help to drive the ongoing evolution of Prevendra's Red Folder secure web-application and the Senior Online Safety content portal, as well as future offerings.
Members of the advisory board include, Jeffrey Carr, President/CEO, Taia Global, Inc., Vince DeCarolis, Founder, DeCarolis Design & Marketing, Diane Frawert, Finance Executive, Jade Y. Gunver, President, The Promin Group, Barry Hurd, Managing Director, Epiphany Metrics, Dr. Raymund King, MD, JD, Shelly Kramer, Founder and CEO, V3 Integrated Marketing, and Rebecca Herold, Privacy Professor.
"I am pleased to welcome such accomplished, talented, and highly qualified leaders to our advisory board. Each member brings a specific skill set which I believe strengthens Prevendra and our efforts to keep individuals and companies safe and secure, online and off," said Christopher Burgess, CEO of Prevendra. "As we continue to develop our capabilities, it is a huge plus to be able to gain insight from a diverse group of proven experts," he said.
Prevendra will leverage the input of the advisory board as it continues to offer highly secure applications and relevant content in its drive to provide solutions to the consumer market which demands safe and secure products.
"Prevendra has begun to engage a broader global audience, so the marketing and strategic direction of our Red Folder web-application and the evolution of our Senior Online Safety content will be the primary focus of the advisory board," Burgess added.
--- --- ---
Shelly Kramer, Founder and CEO, V3 Integrated Marketing
Shelly Kramer is the Founder and CEO of V3 Integrated Marketing. A 20+ year marketing veteran, she's a brand strategist focused on delivering integrated marketing solutions and helping businesses leverage the web for growth and profitability. She's an expert at content strategy and execution and tying social media to business initiatives. Recognized by Forbes on a number of occasions, most recently as one of the Top 40 Social Selling Marketing Experts and Top 50 Social Media Influencers, she's half marketer, half geek, with a propensity for numbers, producing results and a dash of quick repartee.
Rebecca Herold, Privacy Professor
Rebecca has over 2 ½ decades of information privacy, security and compliance expertise. Rebecca is CEO of Privacy Professor® and owner/partner for SIMBUS®. Rebecca has led the NIST SGIP Smart Grid Privacy group since June, 2009; and has been a member of the ISACA International Privacy Task Force since 2013. Rebecca has been an Adjunct Professor for the Norwich University MSISA program since 2005. Rebecca has written 17 books and hundreds of published articles.
Jeffrey Carr, President/CEO, Taia Global, Inc.
Jeffrey Carr is an internationally-known cyber security consultant, speaker, and author since 2009, the founder of the Suits and Spooks security conference, and the President/CEO of Taia Global, Inc., an information security startup. He founded Project Grey Goose, which was a unique collaborative open source investigation into the Russian cyberattacks against Georgia during the 2008 war, and wrote Inside Cyber Warfare, Mapping the Cyber Underworld for O'Reilly Media in 2009 and 2011 (2nd edition). His company has provided services and briefings to the U.S. government and at least five NATO members since 2010.
Vince DeCarolis, Founder, DeCarolis Design & Marketing
Vince DeCarolis brings more than 20 year of experience in Business-to-Business marketing to the Prevendra Advisory Board.  In 1991, Vince founded DeCarolis & Vogel, becoming DeCarolis Design & Marketing in 1996. DDM grew to be one of the premiere Business-to-Business Advertising Agencies in the country. Mirroring the growth of Silicon Valley, DDM helped a wide variety of companies from enterprise to start-up, in developing a complete range of effective marketing assets.
Dr. Raymund King, MD, JD
Dr. Raymund King is the principal and founder of the Law Offices of Raymund C. King, MD, JD, PLLC, in Plano, Texas. Previously featured in Forbes Magazine "Texas Legal Profiles," named one of Fortune Magazine's "America's Premier Lawyers" as well as a Texas SuperLawyer "Rising Star" in Healthcare Law, Dr. King represents a broad spectrum of clients ranging from healthcare to corporate to entertainment law.
Diane Frawert, Finance Executive
Diane Frawert brings over 25 years of business knowledge gained through working with large corporations and start-up companies in their launch of new technologies.  Most recently, Frawert served as Controller of Atigeo LLC, a start-up company that successfully developed a cloud-based big data analytics platform, where she was elected by the Board of Directors as an officer of the company.  In this capacity, Ms. Frawert led all areas of finance and accounting, legal, human resources and benefits administration. 
Jade Y. Gunver, President, The Promin Group
Jade Y. Gunver, has had an extensive career in broadcasting during her early years and in social media marketing later. She is helping individuals, companies and organizations understand the value of having a tangible social media marketing strategy for their marketing efforts. Gunver is a high energy, results-driven, innovative leader with demonstrated world-class interactive marketing and social media skills with "hands-on" expertise, online advertising and social networks.
Barry Hurd, Managing Director, Epiphany Metrics
Barry Hurd is a digital innovation and data strategist with over 20 years of industry experience creating new digital integration models. He is the Managing Director of Epiphany Metrics, a digital innovation agency offering solutions to complex business processes being affected by new technology trends. Barry focuses his insight and expertise to innovate actionable digital business models using big data, market analysis, competitive research, and behavioral trends. He is an acknowledged leader in online business strategy, thought-leadership, online reputation, and comprehensive business metrics.
--- --- ---
About Prevendra:
Prevendra is a safety, security, privacy and intelligence entity, a leader in sharing knowledge and solutions which keep individuals and companies safe and secure, online and off. Established in 2013, the privately-held company is located in Woodinville, Washington. Prevendra: http://prevendra.com.
About Red Folder:
A highly-secure web application offering users peace of mind tomorrow, by being prepared today for life's interruptions, be they big or small. Red Folder places your information at you or your designated trustee's (designee) fingertips in time of need. Red Folder: https://redfolder.co
About Senior Online Safety:
Prevendra's online information and knowledge-share portal provides actionable information to readers with respect to online and offline scams and security incidents targeted at the English- and Spanish-speaking 45+ demographic within the Americas. Senior Online Safety publishes daily, and is offered in the English and Spanish languages. Prevendra published, the first edition of the e-Book "Senior Online Safety" in both English (ISBN: 9780988993914 – March 2014) and Spanish (ISBN: 9780988993921 – September 2014). Senior Online Safety: http://senioronlinesafety.com