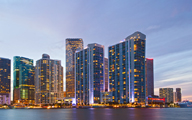 No need to worry about a real estate burst
Miami, Florida (PRWEB) January 28, 2015
If the general observation in the trending districts of Miami has been an overall decrease in sales volume – despite some exceptions - it shows that all the sales prices of the main condos at Brickell, South Beach and Downtown have gone up.
Indeed, Condoideas, one of the leading realty groups in Miami, shows that the sales volume has declined by an average -9% in Downtown, -12% in South Beach and -26% in Brickell.
The situation has been such in Brickell mostly because of an 11% rise in price. For example, Jade Brickell condo prices have gone up by 14% and the Santa Maria has had the most impressive price increase: units were sold in the $659/sqft range back in 2013 and went up to an average $850/sqft in 2014.
The price factor is even more noteworthy in the South Beach area. Indeed, all units' prices in every condo have gone up. The more luxurious condos have indeed the highest percentage of price increase. For example, the Icon South Beach sold at a rate of $1,002/sqft in 2013 and turned into $1,178/sqft in 2014. The most breathtaking increase certainly is that of the Continuum South tower where prices have risen by 48% going from $1,532/sqft in 2013 to $2,344/sqft in 2014. If some investors see it as a good and promising sign that the market is going up, some are getting more reluctant to purchase, hence the progressive reduction in the volume of sales.
Having a closer look at what has happened from 2013 to 2014 in Downtown, shows that the overall 9% decline has not been a general trend. 900 Biscayne, Marina Blue and Paramount Bay have remained healthy throughout. The sales at 900 Biscayne have actually increased by 14%. Then, the Marina Blue condo is still attracting many buyers as it sold 16% more condos over the past year. Finally, the most impressive growth has been noticed at the Paramount Bay condo where sales went from 26 units in 2013 to 40 in 2014. This increase in sales volume is partially because in 2013 some sales were not recorded in the MLX since they were from the developer.
The market is at such at stage that one tends to wonder if the decrease in sales volume would not signify the top off of the real estate market?
Indeed, one can underline 2 more obvious reasons for this slow down in sales:
The continuous rise in price makes potential buyers more reluctant or more cautious to purchase;
The competition from the preconstruction is impacting the resales condo market. With around 60 new towers having starting construction and reservation in 2014, these buildings are giving more options for customers to buy at and divert them from focusing on the usual resales condos. Plus don't forget that realtors tend to privilege preconstruction towers since commissions are more generous.
So no need to worry about a real estate burst. 80% of buyers are paying cash, they have to put down almost 50% deposit and above all they come from all over the world so a crisis in one country will not impact negatively the entire market.