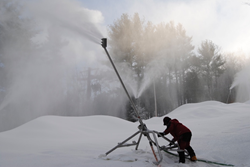 Our crews are doing an unbelievable job in putting out the best product possible, and we want to thank them for all the work they do
Bridgton, ME (PRWEB) January 23, 2015
Coming to the end of a January that saw mild temperatures, too much rain and too few snowflakes, one might think that the conditions at Maine's ski areas could be pretty bleak; but they didn't count on Shawnee Peak's snowmakers doing an incredible job to make sure the conditions at Shawnee Peak are top notch, no matter how little Mother Nature contributed.
And while the snowmaking crew was pumping out an incredible snow surface, the grooming crew was up to the task, buffing out a fresh carpet every morning, with corduroy being served up to hungry skiers and riders ready to get after it. And with the Moon Groom in full swing on selected evenings, skiers and riders are treated to a fresh snow surface as the sun goes down.
"Whether or not there's snow in your backyard, we are making sure that we have mid-winter conditions - natural snow or not," said Shawnee Peak General Manager Ed Rock. "Our crews are doing an unbelievable job in putting out the best product possible, and we want to thank them for all the work they do."
If snowmaking and grooming isn't enough, our Terrain Park staff has taken the last week to completely redesign the Park, with an entirely new set of rails and hits, including the unleashing of the Big Air Bag for 2015.
All of the work that Shawnee Peak has put in to create a great snow surface may be getting a boost, too! A potentially major storm is heading our way - is there a better way to spend your weekend than making some turns in fresh powder on top of already great conditions?
Shawnee Peak is a privately-owned, family ski resort in Bridgton, Maine, just twenty minutes from North Conway, New Hampshire.
Celebrating it's 75th year of operation, the mountain boasts 98% snowmaking, 1300 feet of vertical drop, 239 skiable acres, 40 daytime trails and 19 lit trails for night, as well as two terrain parks.
The mountain is family-driven, affordable, and provides skiing and riding for all levels and abilities. To learn more about the mountain and special offers, visit http://www.shawneepeak.com. See more at: http://www.shawneepeak.com/
####