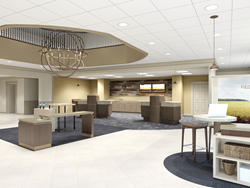 We are moving away from impersonal transactions toward a carefully crafted experience that revives almost forgotten values and pairs them with modern progress. - Dale Sights, President
Henderson, Kentucky (PRWEB) January 26, 2015
"Bringing together unique and diverse talents of two strong community banking organizations that complement each other, creates an opportunity to make a huge difference in the communities we serve," said Scott Davis, chairman and chief executive officer of Field & Main, previously chairman and CEO of Ohio Valley Financial Group.
Davis added, "We've created a distinctive name and brand identity for Field & Main that captures the essence of our rural roots and the spirit of community gathering spots – like gardens, parks and playgrounds – while acknowledging the cornerstone and center of business in communities, Main Street."
Modern Craft Banking
Field & Main Bank will debut a brand of service it calls modern craft banking, which brings together the latest technologies with a personal touch, to carefully craft solutions from a diverse range of financial products. It is delivered through relationships with bankers who take the time to understand customers' unique needs and ambitions, and work toward customized solutions.
Field & Main Bank customers will experience modern craft banking in many ways, starting with an evolution of the branches' retail spaces. Beginning this spring, at the bank's main office in Henderson, customers will interact with relationship bankers at freestanding service pods, providing opportunities to get to know bankers like never before. The enhanced design moves employees from behind the teller counter, enabling them to interact more directly with customers and demonstrate electronic services on computers and mobile devices.
Staff training of Field & Main's relationship bankers is a significant component to the success of the new model. Relationship bankers handle opening accounts and other traditional interactions, and are skillful in navigating electronic banking services. In the coming months, all Field & Main branches will feature this concept. Every aspect of Field & Main is being thoughtfully designed to deliver a community banking experience that's personal and tailored to meet customers' needs.
Dale Sights, president of Field & Main Bank, formerly president and chief executive officer of BankTrust Financial, added, "Details matter. People matter. We are excited about the idea and art of reinventing banking for all of our customers – small business clients to individual retail customers to large corporations. We are moving away from impersonal transactions toward a carefully crafted experience that revives almost forgotten values and pairs them with modern progress."
Customer Service Available And Branch Changes
Field & Main Bank is determinedly working toward a seamless transition for Ohio Valley Financial Group and BankTrust Financial customers. The Field & Main team is available to answer questions about customer accounts, online banking or other services. Customers may call toll-free (888) 831-1500 from 8:00 a.m. to 8:00 p.m., Monday through Friday, to discuss their account or go online to learn more about the transition to Field & Main Bank.
As part of the merger, two former BankTrust Financial locations in Henderson – the main office on North Main Street and the branch on Stapp Drive – will close permanently at the end of the day on January 23.
Field & Main Insurance
On January 26, Field & Main Insurance also launches, formed by the merger of Latta Insurance, previously a division of BankTrust Financial, and Ohio Valley Insurance. Field & Main Insurance is located at 201-B North Main St., Henderson, Ky. Member FDIC.
Field & Main Bank is a Kentucky-chartered community bank dedicated to serving Kentucky and Indiana with strong leadership, convenient banking facilities and new modern craft banking. It was formed through the merger of Ohio Valley Financial Group and BankTrust Financial. Learn more at http://www.fieldandmain.com Member FDIC.