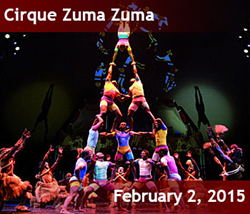 Duncan, OK (PRWEB) January 27, 2015
African Acrobats International, Inc. has established the ultimate African Circus, "Cirque Zuma Zuma" and the Chisholm Trail Arts Council proudly presents this unique experience to SouthWest Oklahoma on Monday, Feb 2, 2015 at 7:00 pm.
The cradle of all cultures, the ultimate source for all music, dance and ritual. The thought of this rich continent brings to mind at once mysticism, magic and excitement. The African Acrobats International, Inc. has something new to bring to american audiences: the allure of the African Circus.
This Circus will cast talented members who can fill a 90 minutes show with nonstop action and amazing features which will keep audiences breathless. This show will include performances of all different types of African culture.
In addition to the evening performance, "Cirque Zuma Zuma"'s cast will be providing a free matinee for area schools. Up to 750 children, faculty and staff will have the opportunity to be a part of this event. As part of the CTAC Live Concert Series, these educational outreaches are provided to the schools free of charge, courtesy of the Chisholm Trail Arts Council and their sponsors.
Please join us Monday, February 2nd for an up close and special performance. The box office will open at 6:00, theater doors open at 6:30pm with the performance beginning at 7:00pm at the Simmons Center, 800 Chisholm Trail Parkway in Duncan, Oklahoma.
Individual Show Tickets can be purchased prior to the show date of Feb 2 through CTAC's website at http://www.chisholmtrailarts.com or by calling CTAC's office at 580-252-4160. Individual Show Tickets may also be purchased at the Simmons Center office during their regular business hours of 8 am to 4:30 pm, as well as the night of the event at the box office.
For Media Inquiries Contact: Darcy Reeves, Chisholm Trail Arts Council at 580-252-4160 or email director(at)chisholmtrailarts.com or Duncan Convention and Visitors Bureau at 1-800-782-7167 or email tourism(at)simmonscenter.com.