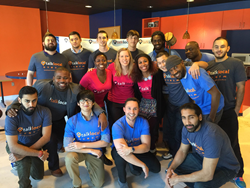 Our team members understand TalkLocal's value for businesses. That's what makes them successful.
College Park, MD (PRWEB) January 24, 2015
TalkLocal is hosting an open-house and job fair in it's new headquarters in College Park. MD, only walking distance from the university.
The local services marketplace, which was founded by three University of Maryland alums and began in a home basement in Potomac, MD, now serves consumers nationwide and is building a business network to match.
Connecting consumers to the right local professionals by phone and in about 90 seconds, TalkLocal's leads for the local businesses they serve are as much as 50x fresher than competing lead generation services, according to their own research.
Now, after raising $4m in venture funding to date, TalkLocal has already doubled in size and launched a mobile app; yet, according to founder Manpreet Singh, "The team remains as ambitious for growth as ever."
The team is focused on building up its sales team lead by Paul Murskov, their VP of Sales who was brought on in October. Sales contractors and interns are responsible for reaching out to high-quality local professionals. These businesses have often had a positive introductory experience with TalkLocal, but have yet to take the next step to obtain more and higher quality customers through TalkLocal membership.
"Our team members understand TalkLocal's value for businesses, from our impressive conversion rates to the fairness of our pay-per-conversation business model. That's what makes them successful," explained Murskov.
Murskov added that personally trains his team members, who earn base pay plus commission and- for exceptional performance, have won prizes like the Amazon Firestick. Under his leadership the company has earned a 50% increase in business registrations month over month since last quarter.
While at LivingSocial, Murskov frequently lead his team to top performance ratings collectively and individually; one year exceeding their goals by 21%. He has "an eye for talent," he says, "and the skills to cultivate it."
On January 28th, Paul Murskov and others will be on hand to discuss the opportunity further. Food and beverages will be provided.Click here to RSVP. Visit http://www.talklocal.com/careers for more information.
TalkLocal raised $3.9 million in venture funding, has served in 49 states and recently marked its one millionth service request call. Connect on Facebook and Twitter.