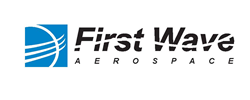 Adding this material is part of First Wave's effort to increase and refresh our stocked inventory. This will better position First Wave to support the inventory needs of our customers
Tulsa,OK (PRWEB) January 26, 2015
First Wave Aerospace is pleased to announce the immediate availability of a substantial inventory of aircraft ducting, manifolds and tubing. First Wave has obtained the surplus inventory from a world-class component repair center and former manufacturer of aircraft ducting.
"Adding this material is part of First Wave's effort to increase and refresh our stocked inventory. This will better position First Wave to support the inventory needs of our customers" shared Tony McAnly, President.
Chris Loyd, Director of Sales offered, "First Wave will work with our repair supply chain to ensure highly-desirable pieces are maintained in serviceable condition for immediate support of our customers AOG requirements. This material supports many popular aircraft models including B737, B747, B757 and B767."
"First Wave is seeking desirable airframe structures, nacelle components, ducting, expendables and other rotable components to add to our inventory. If you have surplus inventory for current model aircraft, please give us a call or send us a list to review" requested Tim White, VP Inventory Development.
First Wave Aerospace is an aviation services firm providing inventory asset management and distribution to aircraft operators and maintenance providers around the world since 1992. First Wave also offers purchasing and repair management support to emerging operators in the Middle East, Asia and Latin America.