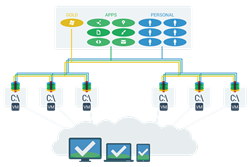 MARLBOROUGH, Mass. (PRWEB) January 26, 2015
Unidesk, the leading provider of virtual desktop and application management software for the cloud, is co-sponsoring a webinar on desktop transformation with the International Legal Technology Association (ILTA) featuring IT managers from three leading law firms. Bernstein Shur of Portland, Maine, Moss & Barnett of Minneapolis, Minnesota, and Murnane Brandt of St. Paul, Minnesota, have all implemented Unidesk and VMware Horizon to replace physical PCs with virtual desktops. The panelists will share best practices and discuss how the move to Virtual Desktop Infrastructure (VDI) can improve attorney and staff productivity, protect sensitive client information and increase IT efficiency.
Law firms are realizing that VDI can better accommodate the fast-paced, on-the-go work styles of attorneys and staff. The enhanced mobility, Bring Your Own Device (BYOD) support, and greater application access offered by VDI enable firms to be more responsive to clients' needs. At the same time, advanced layering technology from Unidesk makes it easier for small IT staffs to deliver the many different applications required by the legal industry, without the image management challenges that have traditionally made patching and updating Windows and applications inefficient.
The webinar panelists will discuss the business drivers for VDI at their law firms, best practices for ensuring success, and the benefits they are experiencing, including:

How the "follow-me" desktop experience provided by VDI improves mobility and productivity and, in turn, client service
How moving data from endpoints to the data center better protects sensitive client information
How new layering technology radically simplifies desktop and application management
WHAT: Webinar: "How VDI Transforms End User Computing in Law Firms"
WHEN: Thursday, January 29 at 2:00 p.m. ET, re-broadcasted Friday, February 27 at 12:00 p.m. ET
WHO: Matt Kramer, director of IT, Bernstein Shur; Bruce Garber, network administrator, Moss & Barnett; Wayne Honeyman, IT manager, Murnane Brandt
REGISTER: http://get.unidesk.com/vdi-in-law-firms-ilta-roundtable-discussion
About Unidesk Corporation
Unidesk enables customers to simplify and scale the management of Windows desktops and applications in the cloud. With Unidesk virtual desktop layering software, IT organizations can provision desktops, deliver applications and patch Windows images with unprecedented ease, while offering the personalization and support that delights end users. Unidesk's open solution supports Microsoft Hyper-V and VMware vSphere and integrates with leading desktop connectivity platforms including Citrix XenDesktop, Microsoft RDS and VMware Horizon. Unidesk is a privately held company headquartered in Marlborough, Mass., with authorized solution partners around the world. For more information, visit http://www.unidesk.com.