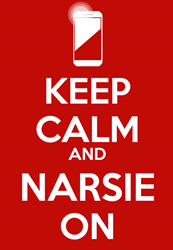 A photo taken of oneself is a 'SELFIE'. Once posted, that photo becomes a 'NARSIE'
Las Vegas, Nevada (PRWEB) January 27, 2015
To 'Selfie' is human, to 'Narsie' divine! Life management expert and hypnotherapist Kimberly Friedmutter contends that selfies accomplish a small part of the human need to be noticed. However, posted selfies called 'narsies', a term coined by Friedmutter, completes a much larger piece of the human drive to thrive.
Friedmutter explains the separation of the term 'narsie' from 'selfie': "A photo taken of oneself is a selfie. Once posted, that photo becomes a 'narsie'. A private-use selfie is far different from the photo posted on social media for all to see."
Friedmutter explains, "No one, up until now, has made that distinction. A person can take pictures of themselves for many reasons, then share those photos, privately," says Friedmutter, "however, when a selfie is posted in a public forum, it becomes a 'narsie', serving an entirely different purpose with a different response and result."
nars-ie
\nar-see\
noun
: a posted photo of oneself taken by oneself
using a digital camera, then posted on social
networks
: a person who posts photos of themselves
taken of themselves on social networks
ex: "I'm a narsie and I know it!"
: variations include narsilicious, narsiholic,
narsified, narsinewbie
Facebook, What's App, Twitter, Instagram and Snapchat have the majority in posts.
"People feel the need to be seen by the village, they continually strive to show they exist," says Friedmutter, explaining how 'narsies' are not only healthy but fulfill 3 important, primal drives:
1) Relevancy; not only are people consciously empowered by forging a place in society but this serves a much larger purpose, subconsciously. Territory and domain create order in an alpha driven society. Visually showing up in social media marks territory for the individual. Bradley Cooper's Oscar selfie with Ellen DeGeneres, Brad Pitt, Angelina Jolie, Kevin Spacey, Jennifer Lawrence, Julia Roberts, Meryl Streep and others was credited as Twitter's most retweeted post of all time.
2) Accessibility; Narsies provide a private look into the inner sanctum of an individual. Socially, and with very little effort, 'narsies' strategically reveal a person's preferences for culture, geography and interests. Much time is given to create the desired look, mood and effect. An entire industry was born creating product for this phenomenon.
3) Commodity; Posturing is critical in a hierarchal society. Narsies establish perceived value of status and success such as prosperity, fitness and sexuality. If the 'narsie' is in front of the Eiffel Tower (a la Kim Kardashian) the unspoken message is wealth, beauty and romance. Narsies show the world your emotional state of mind, preferences, ability and willingness to publish art; narsies have become socially valuable commodities.
James Franco attracted intense media attention for his 'narsies' on NBC's Today's Show but deflected negativity with facts that point to the value of celebrity attention in media. Franco shared the importance of letting fans into private spaces through social media in his article in the New York Times.
Friedmutter explains "As a consultant, I know that the most interesting subject to anyone, is themselves. People don't like to admit narcissism however, it's nature's deep rooted guide for survival. The online community has navigated a healthy way to express themselves, garner attention and engage with friends and fans in this growing frontier. . . the global online village."
For media inquiries contact Elissa Butcher Publicist (310) 963-4808