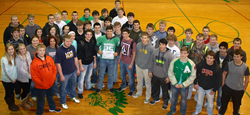 It's an honor to win an award like this. I greatly appreciate all of my coaches and teammates that work hard everyday and helped me achieve it.
Oklahoma City, Oklahoma (PRWEB) January 27, 2015
The law firm of Burch, George & Germany is pleased to announce the winners of the Friday Nights Christmas Lights sponsorships to attend football camp next summer in Oklahoma.
The students selected to receive the football camp sponsorships are:

Walker Graves, a student at Adair High School in Adair, Oklahoma;
Cassidy Whitaker, a student at Sunset Elementary School in Edmond, Oklahoma.
The winners were chosen from nominations solicited from the community of deserving young athletes who would benefit from the opportunity to attend a football camp to focus on skills development.
The legal team at Burch, George & Germany, based in Oklahoma City, takes seriously its role as civic leaders in the community. They believe that the lessons of hard work, teamwork and perseverance taught by football are invaluable life lessons that can empower young men to become the best adults they can be, on and off the field.
"We're often inspired by the young athletes we watch," said Kelly George, a partner at Burch, George & Germany. "We are very pleased to be able to help two deserving young men attend football camp and work to raise their games to the next level. Congratulations to Walker Graves and Cassidy Whitaker."
Each winner will receive a check of up to $350 to cover tuition at a football camp in Oklahoma and a $250 gift card to Dick's Sporting Goods to purchase football gear.
Kirk Sewell, one of four people who submitted nominations for Cassidy Whitaker, described him as an amazing young man who loves football and does exceptionally well on the field.
When Cassidy was presented with the football camp sponsorship, he said, "I feel very special, and I'm excited about this opportunity. I'll keep giving football my all!"
Wakanda Whitaker, Cassidy's mother, said, "I want to thank the people that made this happen. Cassidy is a great kid and football is his life."
In a letter nominating Walker Graves, Mark Lippe, Head Football Coach and High School Principal at Adair High School, described Graves "as a leader on the field and in the locker room" who also works extremely hard in the classroom. He said the football camp could definitely be a life-changing experience for this young man of character.
"It's an honor to win an award like this," Walker Graves said. "I greatly appreciate all of my coaches and teammates that work hard everyday and helped me achieve it."
Burch, George & Germany has created a youth football website, "Oklahoma Football, It's a Lifestyle", with helpful information such as drills and training suggestions to improve performance, tips about how to get noticed by college recruiters and a list of current football camps.
"Football is a tradition in Oklahoma and a way of life," said Derek Burch, a partner in Burch, George & Germany. "Through legal advocacy on behalf of those who have been injured and through active civic involvement, our law firm seeks to make our communities better places to live and raise families.
About Burch, George & Germany
Burch, George & Germany represents plaintiffs from all 77 of Oklahoma's counties in personal injury and product liability lawsuits involving all types of accidents and injuries. Their focus is on litigation. The firm was built on hard work, dedication, personal service, respect and doing everything possible to help clients prevail in their pursuits. Through honest and ethical practices, active participation in collegial organizations and as guest speakers in legal seminars to other lawyers and law students, the attorneys have earned the respect of our peers and the community.