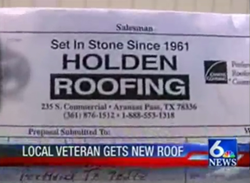 They said there'd be no charge and no money involved. I just sat there sort of stunned...I'm glad I was sitting down.
Houston, TX (PRWEB) January 26, 2015
An 83-year-old World War II Veteran received a brand new roof installed today, free of charge, thanks to Holden Roofing, a Texas based roofing contractor with offices in Houston, Austin, Dallas, and San Antonio.
"I can't believe it, I see it happening, but it's hard to believe," said homeowner Lonnie White.
After receiving several expensive quotes from other roofing companies, Mr. White was forced to leave his roof in disrepair. With major leaks, each new rainstorm caused additional interior damage to Mr. White's home as well as a potential risk for both he and his wife's safety.
That's when Holden Roofing stepped in to help. Mr. White's neighbor approached the Texas roofing contractor to ask them for a more affordable quote. Holden Roofing agreed to drop by Lonnie's house and perform an estimate.
At first, local Veteran Lonnie White thought that the company was going to offer him a quote just like every other roofing company in the city. However, after taking a look at the roof, Holden Roofing estimated the cost at roughly $12,000. In exchange for the sacrifices Lonnie made for the United States over 60 years ago, Holden Roofing was happy to complete this $12,000 roofing project, free of charge. On top of that, Holden Roofing let Mr. White know that the crew would be at his home the following morning and that the work would be completed in one day.
"It is because of our Veterans, men like Lonnie White, who sacrificed so much for our country, that businesses like ours even exist," stated Holden Roofing owner Brett Holden. "When our GM called about Lonnie's situation, we had two options, put a Band-Aid on the roof as a repair and hope he makes it through a couple more years or tear this old roof off and replace it correctly. In my mind, replacing it was the only option."
To say Lonnie was pleasantly surprised would be an understatement:
"They said there'd be no charge and no money involved. I just sat there sort of stunned...I'm glad I was sitting down," said White.
After receiving the news about his new roof, Mr. White called his wife, who reportedly started crying after she heard the news. Lonnie says his wife cried all night.
Holden is no stranger to helping out our Veterans. Holden Roofing routinely steps up to help Veterans in need and has most recently stepped in to help another Houston area Veteran, Elbert Wood, after vandals ransacked his Houston area home. Holden Roofing has also created the Texas Swordfish Seminar benefitting a Veteran's organization called Everyday Heroes. This seminar has raised over $900,000 for this organization over the last 4 years.
Holden Roofing has been serving Texas residents since 1961 with roofing offices in Houston, Austin, San Antonio, and Dallas. Holden Roofing is an Owens Corning Platinum Preferred Roofing Contractor with over fifty years of service in the Texas area. Information about Holden Roofing's charitable projects can be found at http://www.holdenroofing.com.