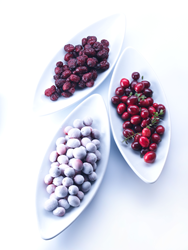 It's always fun to challenge our culinarians with fresh food items to keep innovation in our company at its peak. ~ Ray Mulligan, President, Flik Independent School Dining
Wareham, Massachusetts (PRWEB) January 29, 2015
Heeding the call from cranberry growers to increase demand for U.S. grown cranberries, the Cranberry Marketing Committee (CMC) USA is supporting innovative approaches that keep cranberries top-of-mind and on the plates of consumers year-round.
Recently the CMC worked with Flik Independent School Dining, a part of Compass Group (the leading foodservice management company in North America), to inspire their school foodservice chefs to create recipes utilizing U.S. cranberries. Participants will have much opportunity to flex their culinary talent using fresh, frozen, sauce, or dried cranberries. Eligible recipe categories include breakfast, lunch/entrée, snack and grilling & summer. Entries are due March 2, 2015 with winners selected April 21, 2015. The grand prizewinner will win $2,000. Four category winners will each be awarded $750. Their contributions will also be added to the growing collection of recipes offered by the CMC at http://www.uscranberries.com.
"Knowing Flik's commitment to providing nutritious, fresh food to the independent schools that they serve, we are very excited to see what kinds of cranberry recipes Flik chefs will create during this contest," said Scott J. Soares, Executive Director, CMC.
"We couldn't be more excited to have the Cranberry Marketing Committee USA as our partner in this year's contest," said Ray Mulligan, President, Flik Independent School Dining. "It's always fun to challenge our culinarians with fresh food items to keep innovation in our company at its peak. I can't wait to see, and taste, what our amazing chefs create!"
In response to needs articulated by school foodservice professionals, the USDA added dried cranberries to the Foods Available List for Schools and Institutions in 2014. Correspondingly the CMC has been actively encouraging the creation of creative cranberry-themed recipes appropriate for school meals. Last year, the CMC worked with Wisconsin Department of Public Instruction, School Nutrition Team to challenge school foodservice professionals in Wisconsin to create cranberry-themed recipes that would also meet school nutrition guidelines. The winning recipe was a "Cranzy Chicken Taco" created by Ingrid Rockwell and added to the CMC's growing School Nutrition Toolkit - a tool designed to "serve up" information foodservice professionals need to incorporate of cranberries into school meals.
About the Cranberry Marketing Committee, USA (CMC)
The CMC was established as a Federal Marketing Order in 1962 to ensure a stable, orderly supply of good quality product. Authority for its actions are provided under Chapter IX, Title 7, Code of Federal Regulations, referred to as the Federal Cranberry Marketing Order, which is part of the Agricultural Marketing Agreement Act of 1937, as amended. This Act specifies cranberries as a commodity that may be covered, regulations that may be issued, guidelines for administering the programs, and privileges and limitations granted by Congress. For more information about the CMC, visit http://www.uscranberries.com. Follow at http://www.twitter.com/uscranberries and http://www.facebook.com/cranbecravers.
About Flik Independent School Dining
Flik is a diverse family of food and nutrition specialists dedicated to providing the academic community with fun, healthy dining options. Flik partners with school communities to customize a program that meets the needs of their unique student body. Chefs use fresh local ingredients and world-class culinary techniques to provide students with innovative, diverse menus. From expansive, colorful salad bars to soups made from scratch, Flik works closely with each client to transform their school's hall into a source of pride and values.