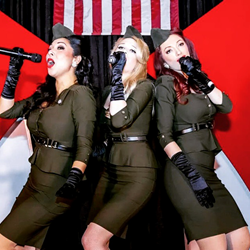 The American Bombshells go the extra mile to learn military traditions, history and structure, building a bond of camaraderie and friendship.
Arlington, Virginia (PRWEB) January 26, 2015
The ambassadors of America's gratitude to our nation's heroes, The American Bombshells, will be bringing their special style of patriotic musical entertainment to World T.E.A.M. Sports' annual Face of America banquet in Arlington, Virginia April 24.
World T.E.A.M. Sports CEO and President Van Brinson announced that the New York-based non-profit organization will provide the entertainment at the banquet honoring injured military veterans from America and her allies. More than 500 participants of the Face of America bicycle and hand cycle ride from the Pentagon to the historic battlefields of Gettysburg, Pennsylvania will attend the catered dinner at the Sheraton Pentagon City Hotel the evening prior to the 110-mile ride's early morning start.
"World T.E.A.M. Sports welcomes the inclusion of The American Bombshells to the Face of America," said Brinson. "Their particular blend of patriotism and musical showmanship promises to elevate the entire evening."
With three-part harmony and a classic 1940s look, The American Bombshells have offered performances to military veterans, active-duty military, wounded warriors and Americans across the country since 2011. Military bases, veterans' hospitals and special events like NBC's Today Show and the Wounded Warrior Project's Soldier Ride have enjoyed inspiring performances from the group, who sing everything from rock 'n roll to country to classic patriotic songs offered by The Andrews Sisters to American troops during World War II.
Founded by singer Ali Reeder, who met her Marine husband during Fleet Week following a musical program on his ship, the non-profit organization depends on sponsorships, performance fees and donations to continue their mission to entertain members of the military and particularly injured veterans.
"It is such a humbling honor, to be able to bring a little joy to those who have sacrificed so much," said Reeder. "We have had the pleasure to hear so many personal stories that we will carry in our hearts and continue to honor by preserving their memories."
The American Bombshells boast pinup good looks and a high-energy, interactive program that uplift spirits and inspire listeners. Performing acapella at many of their performances, The American Bombshells provide an emotional connection through their family-friendly music.
"Our shows are built specifically around the requests of the military veterans we serve. From WWII to Vietnam to OIF/OEF, we aim to connect musically to all generations," explained Reeder. "The American Bombshells go the extra mile to learn military traditions, history and structure, building a bond of camaraderie and friendship."
The 2015 Face of America Ride is supported through sponsorship support from Capital One Bank, American Portfolios Financial Services, Booz Allen Hamilton, Benson Botsford LLC, BODYARMOR, Deven's Recycling, DuPont Fabros Technology, Fidelity & Guaranty Life, FootStomp.com, Freshbikes, General Electric, Lerch, Early & Brewer, Penske Truck Rental, Sila Solutions Group, Subway of the Walter Reed National Military Medical Center, Three Wire Systems LLC, U.S. Silica, Vedder Price and Veterans Corps of America.
About The American Bombshells®
American Bombshells Entertainment, Inc., is a 501(c)3 charity entertainment organization with the mission to provide entertainment to our wounded and disabled veterans along with our troops and patriotic American citizens. We are a civilian organization supported solely by the generosity of individuals, corporations, and sponsorships. Our fundraising shows are dedicated to those who continue to battle for recovery, recuperation, and reintegration. We entertain and travel based on donations and sponsorships to provide support and entertainment to our heroes in hospitals, rehab centers, and anywhere else they may reside. Our heroes should know that they are never forgotten, and that America is eternally grateful for their sacrifices. The mission of this organization is completely dedicated to uplifting spirits in a show of gratitude. If you wish to be part of the American Bombshells family and share in doing something special for our heroes, please feel free to inquire about our sponsorship programs. Contact info@AmericanBombshells.com for booking information.
About World T.E.A.M. Sports
World T.E.A.M. Sports is a 501(c)(3) not-for-profit organization chartered in North Carolina and headquartered in Holbrook, New York. Since 1993, World T.E.A.M. Sports has organized athletic events for disabled and able bodied citizens – mountain climbing, white water rafting, biking, and more. Four things always happen at our events: (1) Disabled participants build self-confidence and physical fitness; (2) The disabled provide a role model for other disabled citizens, encouraging them to take up physical activities; (3) The disabled become a moving inspiration to other participants and to spectators when they see that disabled individuals can meet challenges beyond anyone's imagination; and (4) The disabled and able-bodied participants learn to work as a team to overcome those challenges. World T.E.A.M. Sports changes lives through sports.