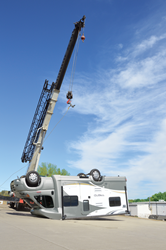 "It's in our corporate DNA to do everything we can to provide a better, safer experience for our customers," noted Randy Potts, Winnebago's CEO.
(PRWEB) March 05, 2015
America's love affair with RVing was born from our national desire to get away from it all, but like the rest of the world, RVing has changed to reflect new technologies.
Campgrounds promote internet access. GPS navigation and back-up cameras are standard on most models. And a new breed of motorhome is starting to appear on highways and in campgrounds across the country.
Smaller and more fuel-efficient, they're built on the Ram ProMaster chassis, new to the U.S. market, but already widely popular in Europe — so popular, in fact, that it's the best-selling motorhome chassis in the world.
Yet despite that track record, one company needed to prove for itself that the motorhomes it built on the chassis would pass its own battery of tests.
So one cool morning last year, the first motorhome built in the United States on the Ram ProMaster chassis fell to the earth. Upside down.
In this aptly named "drop test," Winnebago dropped the coach from three feet above the ground onto an even concrete surface. While not legally required (and not a test for safety issues), the drop test provides insight into the structural integrity of the coach, and ensures that interior fittings, like cabinetry, stay put under the test conditions. The little Trend passed.
Surprisingly, Winnebago is the only company that conducts these tests. They're part of a demanding gauntlet that also includes mandatory safety testing to assure fuel system integrity (required for vehicles under 10,000 pounds and conducted by outside professionals) as well as pull tests on seats and seat belts conducted on-site by Winnebago in its testing facility. There's even a custom-built "shaker machine" that simulates thousands of miles of wear and tear over a period of weeks.
It takes time (and money), but the company believes it's worth it. "It's in our corporate DNA to do everything we can to provide a better, safer experience for our customers," noted CEO Randy Potts. "As far as we know, we're the only motorhome company that tests our products in all of these ways."
And now that they've arrived, these sleek new motorhomes have struck a chord with RVers, so keep an eye out for them. And the next time you're near an RV dealer, feel free to stop in. Although the age-old drive to hit the road still powers the industry, it's amazing to see just how far today's motorhomes have come.
About Winnebago Industries
Winnebago Industries, Inc., "The Most Recognized Name in Motor Homes®", is a leading U.S. manufacturer of recreation vehicles, which are used primarily in leisure travel and outdoor recreation activities. The Company builds quality motor homes, travel trailers, fifth wheel products, and transit buses. Winnebago Industries has received the Quality Circle Award from the Recreation Vehicle Dealers Association every year since 1996. The Company's common stock is listed on the New York and Chicago Stock Exchanges and traded under the symbol WGO. Options for the Company's common stock are traded on the Chicago Board Options Exchange. For access to Winnebago Industries' investor relations material or to add your name to an automatic email list for Company news releases, visit http://investor.wgo.net.
Source: Winnebago Industries