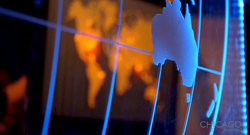 We're big fans of the spy genre ourselves
Chicago, IL. (PRWEB) January 27, 2015
Americans have a long and documented love of a good spy story (to be fair, we may have inherited this love with the British, who have been known to craft an excellent spy story or two over the years). Indulging in this affinity, Chicago-based projection media company Chicago Projection Mapping is pleased to announce a new video that documents a recent corporate event that took place in a prominent downtown hotel that featured a James Bond-style, classic spy theme. This theme and party brought a fun, lively atmosphere to what may have otherwise been a cookie-cutter event, a great example of how 3D, 4D and interactive projection mapping can take any event to the next level—even when that level is Classified.
View the video on the Chicago Projection Mapping YouTube Channel.
The event displayed fun nods to all the tropes and conventions of the classic spy genre. There were laser tripwires, digital countdown clocks, and spy gadget projection mapping that were designed to entertain participants at the events and give them that extra sense of heightened reality. In a way, then, the corporate event becomes more like stepping onto a movie set—or into the movie itself. It's simultaneously an escape from reality and an embrace of the every day. This might be why many event planners that throw corporate events favor a spy theme. A spy, after all, is someone who is successful through intellect and guile, not through an application of brute force. A spy is perpetually the underdog and always successful. It's a great notion for companies to reinforce.
"We're big fans of the spy genre ourselves," said Mark Smith, owner and founder of Chicago Projection Media. "We bring a lot of enthusiasm to this kind of production, a lot of passion. It's geeks playing with cool toys, and who doesn't like that?" Chicago Projection Mapping works hard to bring that enthusiasm and passion to every project, but the spy theme fits in nicely with their inherent interests. Indeed, a spy theme tends to generate many narrative opportunities that may be much harder to find on a different project.
Perhaps that's another reason why companies go back to the spy theme again and again for corporate functions. It's popular—people relate to it. And it offers ample opportunities for story and spectacle alike. The spy theme, then, is a great choice for corporate events, company holiday parties, or even weddings and other celebrations. The projection mapping at these events go far beyond simple interactive decorations, immersing guests in the story, the experience, and the event. It improves morale, it improve reputation, and can help cement friendships—because everyone shares in the same story. It shouldn't be surprising, then, that Chicago Projection Mapping is ready to bring this theme to a wide variety of other clients needs, from brand launches to anniversary galas.
This recent James Bond style interactive 3d projection mapping event was held at one of the cities major hotel complexes and featured the excellent work of Chicago Projection Mapping. The video documenting this exciting event can be viewed on the CPM YouTube Channel. If you're interested in your own spy-themed event, you can contact Chicago Projection Mapping at info(at)ChicagoProjectionMapping(dot)com to get more information.
CPM Services:
3D and 4D Projection Mapping Design
Temporary and Permanent Installation
Consultation on All Aspects of Mapping Process
Show Design and Integration
In-House 2D and 3D Animation Team
Custom Interactive Design Capabilities
Custom Media Servers for flawless operation
Experience with all standard mapping hardware and software
Partnerships with regional and national hardware vendors
On-Site Setup, Mapping, and Event Operation
Remote access and operation for permanent installation
and much more
About Chicago Projection Mapping: Based in Chicago, IL, Chicago Projection Mapping is a full service content creation and 3D projection mapping company, serving the corporate, event, meeting, and convention sectors. For more information, please visit http://www.ChicagoProjectionMapping.com, or call 630-620-0000.