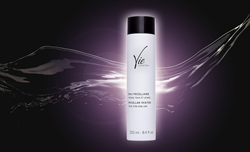 Micelles trap makeup and impurities for gentle removal without rubbing or rinsing.
SAINT-MALO, FRANCE (PRWEB) January 29, 2015
Vie Collection demonstrates its anti-aging expertise with MICELLAR WATER Face, Eyes and Lips. Vie Collection has integrated four new-generation cleansing and revitalizing ingredients into this formulation to gently cleanse, remove makeup and revitalize the skin in one single step.
Micelles trap makeup and impurities for gentle removal without rubbing or rinsing. Volumizing Hyaluronic Acid provides a three-in-one epidermal and dermal action to firm, redensify and rehydrate skin. Vie Collection's Moisturizing Duo of
Vitamins B3 and B5 enhances the skin's barrier function and hydrates the deep layers of the epidermis to reveal a fresh and radiant complexion.
Vie Collection MICELLAR WATER is formulated without alcohol and is tested under opthamological and dermatological supervision. It is suitable for sensitive eyes and contact lens wearers. With its delicate fresh floral scent and unanimously proven 3-in-1 effectiveness,* Vie MICELLAR WATER combines the freshness of a water with the effectiveness of a toning lotion, leaving the skin supple, comfortable and refreshed.
*Satisfaction test conducted on 22 women, twice-daily application for 28 days.
MICELLAR WATER Face, Eyes and Lips........................250 ml, suggested retail price $54.50
Directions for use: Gently apply to entire face, eyes and lips with a cotton pad. Do not rinse. Tested under opthalmalogic and dermatological control. Suitable for sensitive eyes and contact lens wearers.
Active Ingredients:

Cleansing Micelles - small spheres with dual affinity that behave like a cleansing agent. Lipophilic parts attract and trap makeup and aqueous and oily secretions in the center of the micelle. Hydrophilic parts allow the micelle to be easily removed by water.
Volumizing Hyaluronic Acid - Hyaluronic Acid plays a key role in the structure of the epidermis, helping to maintain an optimal level of hydration by trapping water in the skin's deeper layers. At the epidermal level, Hyaluronic Acid stimulates the synthesis of cell junction proteins, limiting transepidermal water loss and regulating hydration. At the dermal level, it causes the skin to retain water, forming a reserve. Hyaluronic Acid stimulates the sythesis of collagen I, increasing skin firmness and smoothness.
•Vitamin B Moisturizing Duo
- Vitamin B3 - a water-soluble vitamin rarely stored by the body. Vitamin B3 helps stimulate the barrier function of the skin by reducing transepidermal water loss. It also stimulates collagen synthesis
to improve skin texture.
- Vitamin B5 - component of Coenzyme A. Plays a key role in cell metabolism and participates in hydration of the deep layers of the epidermis.
Vie Collection at a glance:
As a Cosmeceutical Expert in the Spa Industry, Vie Collection is a high performance, high-end skin care line focused on bridging the gap between traditional cosmetics and esthetic medicine. We are one of few spa brands with our own laboratory which allows us to always be on the cutting-edge of scientific progress in cosmetics. We offer in-spa solutions for a spa-savvy clientele that seek medical results but prefer the use of topical products. Vie Collection has targeted, non-invasive and clinically proven alternatives and complements to the top five cosmetic medicine procedures available today.
With the partnership of a prestigious French Esthetic Doctor, Vie Collection brings expertise, authenticity and real results in the form of expert formulations and treatments, from the finest ingredients.