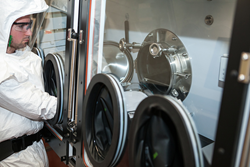 We see the PCS as an important asset to serve the growing oncology market. ~Wayne Nowicki
Morton Grove, IL (PRWEB) January 26, 2015
Regis Technologies is proud to announce the commissioning and start up of their new Potent Compound Suite for February 2015. Director of Business Development, Wayne Nowicki, will hold a press conference at Informex in New Orleans, February 3 at 11:00am.
Regis Technologies is a contract manufacturing organization operating a 36,000 square foot, cGMP facility in Morton Grove, Illinois. The PCS addition will provide for small molecule cGMP manufacturing of potent compounds up to about one kilogram per batch.
Regis' Director of Business Development, Wayne Nowicki, states, "We see the PCS as an important asset to serve the growing oncology market as more companies look to advance their lead candidates into the clinic."
The PCS project was approved by Regis' Board of Advisors in 2013 to address customer demand and industry trends. Regis' Manager of Process Engineering, Dragan Ristic, supervised the design and construction of the suite.
Proper handling of potent compounds requires the use of specialized facilities that are carefully designed to minimize containment risks. This involves equipment such as isolators, laminar flow hoods, and local exhaust ventilation appropriate for potent compound handling. Thus, the project included several phases from concept design to construction.
To create the space needed, Regis relocated chemical storage and built new offices. After several proposals, Regis selected Flow Sciences, Inc. to manufacture the containment isolator. Before transforming the PCS space, Ristic's team constructed a full size model of the containment isolator for evaluation of ergonomic aspects by future users.
For expert advice, Regis brought in consultants with years of potent compound experience for design, commissioning, and documentation support. The consultants also worked with the Quality Control and Analytical Method Development staff to choose the best laboratory and personal protective equipment for potent compound handling.
With the space and staff prepared, Regis is excited to add the new potent compound capabilities to its almost 60 year long resume. Founded in 1956, Regis has long been recognized as a premier partner for the clinical and commercial production of small molecule APIs. Its outstanding compliance history, technical and project management teams, and central US location have made it the supplier of choice for emerging and mid-size pharma.
Nowicki will present more details at InformEx 2015 in New Orleans. Those interested can attend the cGMP Showcase presentation on Tuesday, February 3, 2015 at 11:00am in room 222 of the Morial Convention Center. Details on the presentation are available on Informex's website.
More information on Regis' capabilities, team, and outstanding compliance history is available on Regis' website.